Hamilton supreme at Silverstone for 4th consecutive home victory; Bottas fights back for P2 as Ferrari suffers from late tire woes — Raikkonen recovers for P3 but Vettel plummets
After laying down a record time for pole at the British Grand Prix, Mercedes' ace Lewis Hamilton sailed away at the start of Sunday's race and never looked back. Badly needing a victory after a run of bad luck & mediocre performance, Silverstone was just the tonic he needed as Hamilton dominated his home Grand Prix yet again, winning for the fourth consecutive time and fifth overall. That tied the talented Englishman with F1 legends Jim Clark and Alain Prost for most British victories all time. After disappointing his countrymen with his inexplicable no-show for Thursday's F1 London Live fan fest all was forgiven as Hamilton won easily in front of the packed Silverstone grandstands. The expected early race dice with two pursuing Ferrari never materialized. Hamilton's start was simply so quick and his mastery of this circuit so complete that he never had to worry about falling into the clutches of the Prancing Horses, which wound up having to fend off other competitors of their own instead.
With the Scuderia's pilots Kimi Raikkonen starting from P2 and Sebastian Vettel P3 on the grid, Raikkonen got a decent enough getaway to maintain his position but Vettel quickly found himself in a battle with the very game and fired up Red Bull of Max Verstappen. In fact, Verstappen out-hustled Vettel for that P3 position in the opening laps, giving as good as he got in pushing the 4-time world champion wide to maintain his advantage. Vettel finally recovered on pit strategy when his team executed flawlessly to allow him to undercut the Red Bull man, who had a slower service due to a slightly unkempt tire change. So by the time the pit stops were made by the elite group in this nominal one-stop race it all seemed to be setting up to finish just as they had started: Hamilton, Raikkonen, Vettel. But Hamilton's wingman Valtteri Bottas had other ideas.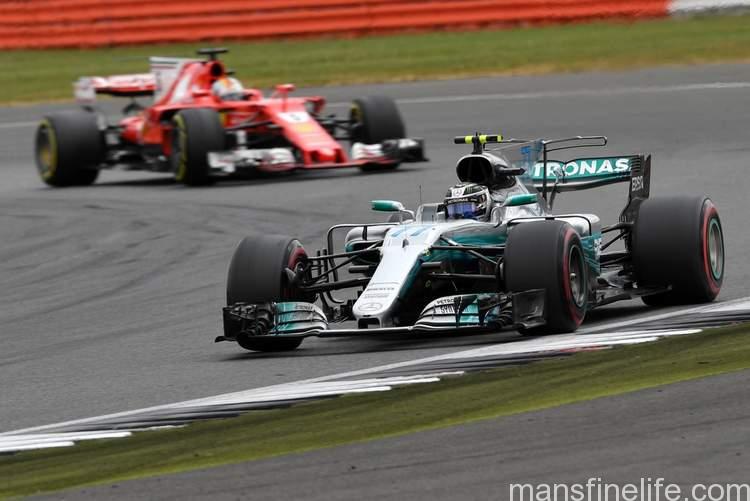 Starting from back in P9 after a subpar qualifying effort and a 5-spot grid penalty for a gearbox change, Bottas, the winner of the Austrian GP two weeks ago, used an alternate strategy by beginning the race on the harder Soft compound Pirellis, which enabled him to run long into the race with a minimal loss of performance relative to the other Supersoft runners. By the time the Finn came in on Lap 33 he had regained a massive amount of track position. That put him in the hunt for a podium right behind Vettel in P4. He pressed his tire advantage cooly but relentlessly, forcing Vettel to defend fiercely. Vettel had a smoking lock up trying to keep Bottas behind on Lap 42 and on Lap 43 Bottas out-dragged him on the Hanger Straight and made it stick into Stowe. Now Bottas turned his attention to Raikkonen down the road clearly thinking of making it a Mercedes 1-2, however unlikely that might have seemed before the race.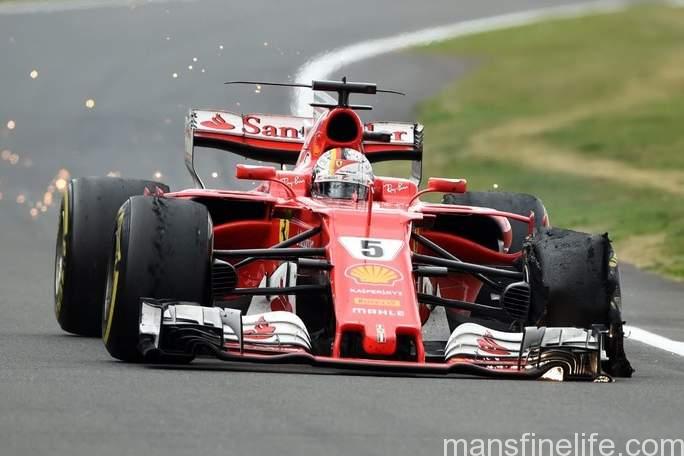 And with Bottas taking chunks of time off of his fellow Finn, trouble hit the Ferraris with the laps winding down. First Raikkonen's front left started to delaminate, forcing him to pit on Lap 50 of the 51 lap contest and seemingly destroying his chance at a podium. But then the same misfortune befell his teammate Vettel on the final lap of the race only in more explosive fashion with a major disintegration of his left front. So despite his own misfortune, Raikkonen benefitted from his teammate's even more ill-timed one, passing him back for that P3 while Vettel's late emergency stop caused him to plummet down the order. The main beneficiary was Bottas, who had driven a brilliant race to be in position to exploit Ferrari's double misfortune and therefore inherited a stunning P2. Raikkonen held on for the last podium position at P3 and despite his disappointment was nowhere near as distraught as his teammate Vettel, who plunged all the way down to P7 with his ill-timed tire woes. That finish combined with Hamilton's overall victory saw Vettel's lead in the drivers' Championship dwindle to a single point, 177-176. And with Mercedes unlocking more and more performance out of their F1 W08 chassis to the tune of the last 6 poles in-a-row the storied Scuderia has got to be feeling trepidatious about their chances as the season heads into its second half.
Elsewhere in the race, Red Bull were among the other key beneficiaries of Vettel's problems. Verstappen, who must have been thrilled to finally see the checkered flag after a string of DNFs this season, came home a solid P4. His teammate Daniel Ricciardo chipped in with an amazing run of his own, fighting back from P19 on the grid after a turbo failure in qualifying to methodically pick off inferior cars and work himself up the order. He eventually came home a remarkable P5 and if he had a bit of luck finishing that high who could begrudge the hard-charging Aussie after such a compelling drive? Also thrilled with his result was Nico Hulkenberg, who qualified P7 in his normally pokey Renault and finished way up in P6. The factory Renault team's upgrades, most notably a new floor that enables the rest of the aero to work more efficiently, appears to be really paying off even if reliability is still a big bugaboo for the bright yellow cars — Hulkenberg had to nurse his ride home with late-race ERS issues and hard luck teammate Jolyon Palmer was out on the formation lap with hydraulic issues.
Force India had yet another good points haul even if they were never in the mix for glory. Their two cars finished behind Vettel and off the lead lap, with Esteban Ocon pipping his teammate Sergio Perez, P8 to P9. Felipe Massa got the last point paying position with P10, salvaging something out of a tough weekend for the illustrious English Williams F1 team at their home GP.
Top 10 finishers for the British GP:
POS
DRIVER
CAR
LAPS
TIME/RETIRED
PTS
1
44
MERCEDES
51
1:21:27.430
25
2
77
MERCEDES
51
+14.063

s

18
3
7
FERRARI
51
+36.570

s

15
4
33
RED BULL RACING TAG HEUER
51
+52.125

s

12
5
3
RED BULL RACING TAG HEUER
51
+65.955

s

10
6
27
RENAULT
51
+68.109

s

8
7
5
FERRARI
51
+93.989

s

6
8
31
FORCE INDIA MERCEDES
50
+1

lap

4
9
11
FORCE INDIA MERCEDES
50
+1

lap

2
10
19
WILLIAMS MERCEDES
50
+1

lap

1
Complete race results available via Formula1.com.
The next race is in two weeks time from the Hungaroring in Budapest. Can Hamilton keep a good thing going to overhaul Vettel in the Championship at the last race before the summer break? Hope to see you then to find out!