When you get to a certain level as a wristwatch collector/enthusiast you may find yourself test driving a lot of different watches but keeping relatively few of them long term. This sort of restlessness isn't uncommon — many of us are looking to replicate the thrill of acquisition that we felt more frequently when we were just starting out in the hobby and all was new to us. But these newer infatuations — and even old ones — can be fleeting as our tastes evolve. And obviously financial circumstances can dictate selling off pieces just as much as falling out of love with a watch. So I wanted to talk about the watches that are in my Keeper category rather than those that simply come and go and how and why they stay there year after year. These are the pieces that I would be most loathe to covert into cash whatever their current or future value. They're the watches that I enjoy, wear and that have pride of place in my collection. In other words, they're not going anywhere if I can help it because they're what I feel makes my collection uniquely mine.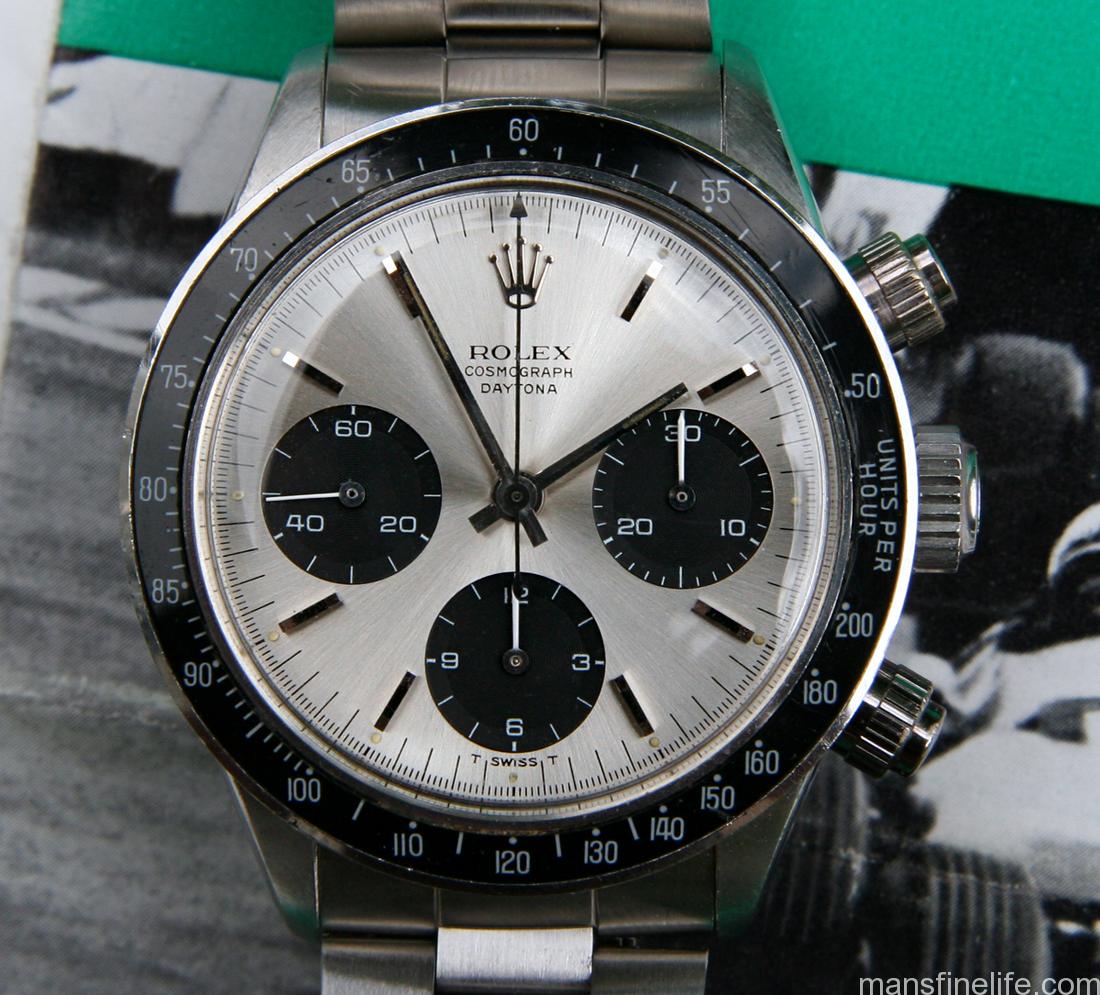 I'll begin this new series of personal reflections on my keepers pretty much at the top — with my mid-1960s Rolex reference 6240 Cosmograph Daytona. Picking one's favorite watch is like picking one's favorite song. There's never really one top spot just a select few all-time greats that you keep coming back to. For me, this Daytona is one of those evergreen classics that always puts a smile on my face. Typical of what makes Vintage Rolex so seductive as a pursuit, the 6240 has a lot of subtle nuances and details that all add up to make it a special watch. The reference is the first true Oyster chronograph produced by Rolex with not only a bigger screw down crown than its predecessors but also screw down pushers to prevent the wearer from accidentally engaging them when in the water. This latter safety feature marked a sea change in chronograph design and is still found on Rolex's modern Daytonas, as well as other competitors' sport chronographs like AP's non-Offshore Royal Oak and Vacheron's Overseas.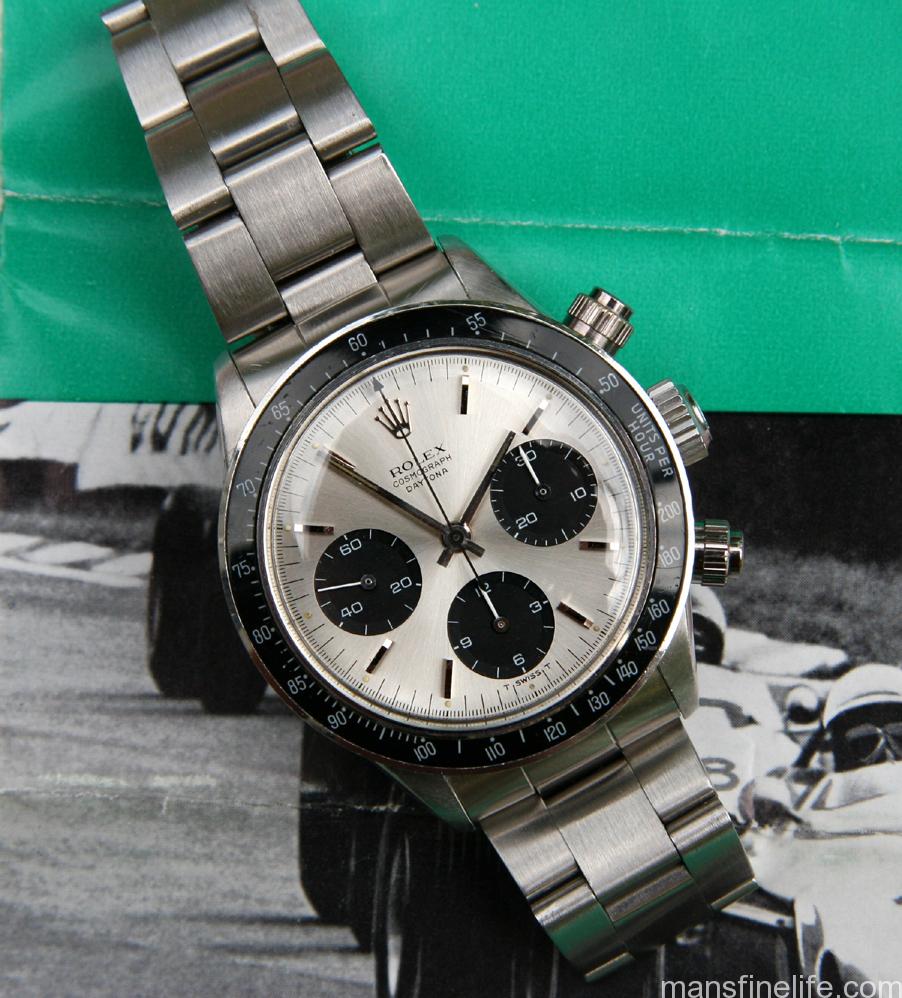 My example has an early serial # for the 6240 reference at 1.2 million, which dates it to circa 1965, the model's debut year. And it is also delightfully period correct, with the original shorter "stubby" screwed pushers, original Mark I black acrylic UPH bezel and the correct type of sub register hands (note the difference between the thin constant seconds and the thicker hour and minute counter hands). The case shows wear but not any polish, just how I like my watches and a pretty uncommon bonus, as the custom back in the day was regular polishings at service to "refresh" the watch. As you can see the dial does not have the word Oyster on it despite the big water resistant upgrades in the 6240. Very soon screw down pusher models would have Oyster printed on their dials but in true Rolex fashion the early generation 6240s tend not to, as Rolex was keen to get the new improved Daytona out there and simply used pump pusher dials early on. There is also the theory that these non-Oyster 6240s might have started life as Paul Newman-dialed models but were swapped out by dealers anxious to get rid of that then-unpopular style and move their merchandise. Due to the sheer frequency of the non-Oyster dials — both small and large DAYTONA fonts — occurring exclusively in the earlier serial number ranges this seems unlikely to me. Also note that at this early date there are no Sigma symbols surrounding the T SWISS T nomenclature below the "6" counter. This addition, making a bigger deal out of the already extant white gold markers on Rolex dials, would come later in the 60s.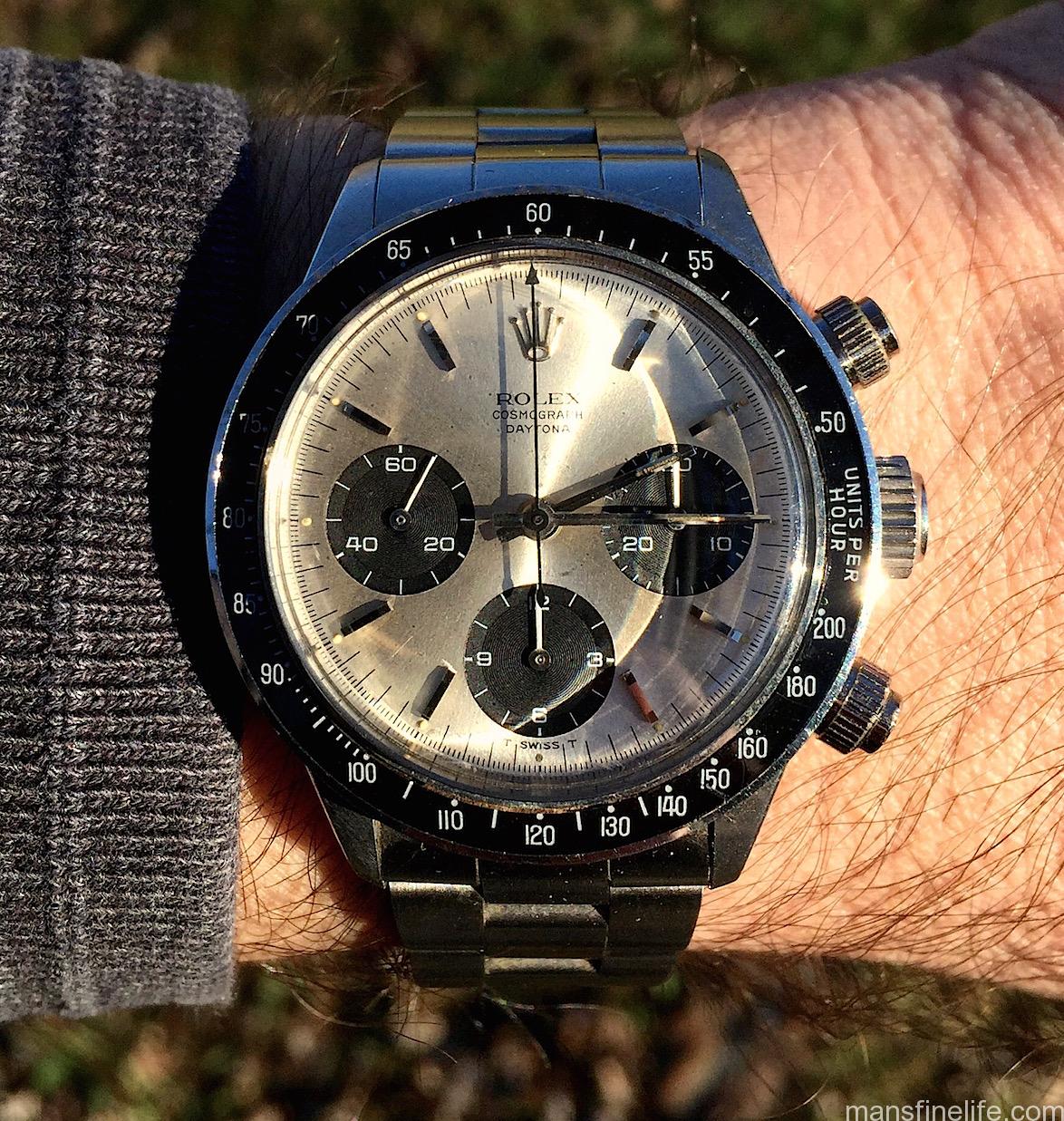 Dial condition is paramount on the list of criteria that I use to judge a watch and this silver panda dial is essentially perfect with the fragile luminous dots all intact and having a lovely matching patina with the hour and minute hands. This generation of dial with the small Daytona printed in the top quadrant and not in red above the hour counter is also interesting in that there is a lacquer coat on top of the sunburst finish. This dial finishing process was abandoned by Rolex on later production models like the 6263 and 6265, the Oyster successors of the short run 6240, and on this dial it leads to a pearlescent quality with a glowing, subtle rainbow effect at certain angles like mother of pearl or petroleum floating on water that I find very unusual and attractive.
Inside the watch is of course a redoubtable Valjoux 72 manual wind column wheel movement. Now, these Rolex Valjoux 72 chronos are sometimes bashed for using such a ubiquitous movement while paradoxically they also have their use by Rolex highlighted to jack up the prices of other Val. 72 chronos ("Sure it's a Wittnauer but the movement is the same as in the Rolex Daytona!"). But to say that the Valjoux 72 in a Rolex Daytona is the same as those found in so many other chronographs of the 1960s is not really accurate. Rolex by this time was using their own proprietary balance incorporating a Breguet hairspring and microstella screws for finer regulation and greater accuracy and robustness. This is why Rolex Valjoux 72 iterations go through a dizzying array of caliber designations in a relatively short time. From the time Rolex began tinkering with the balance in the early 60s, you'll find that the stamp changes from simply 72 (or VZ if much earlier) to 72A, 72B, 722, 722-1 and eventually 727 in the early 1970s. Most experts feel that the 6240 could have come with the 72B, 722 or 722-1 and mine has a 72B, which for me fits the early serial number, as it is the oldest variation in that sequence.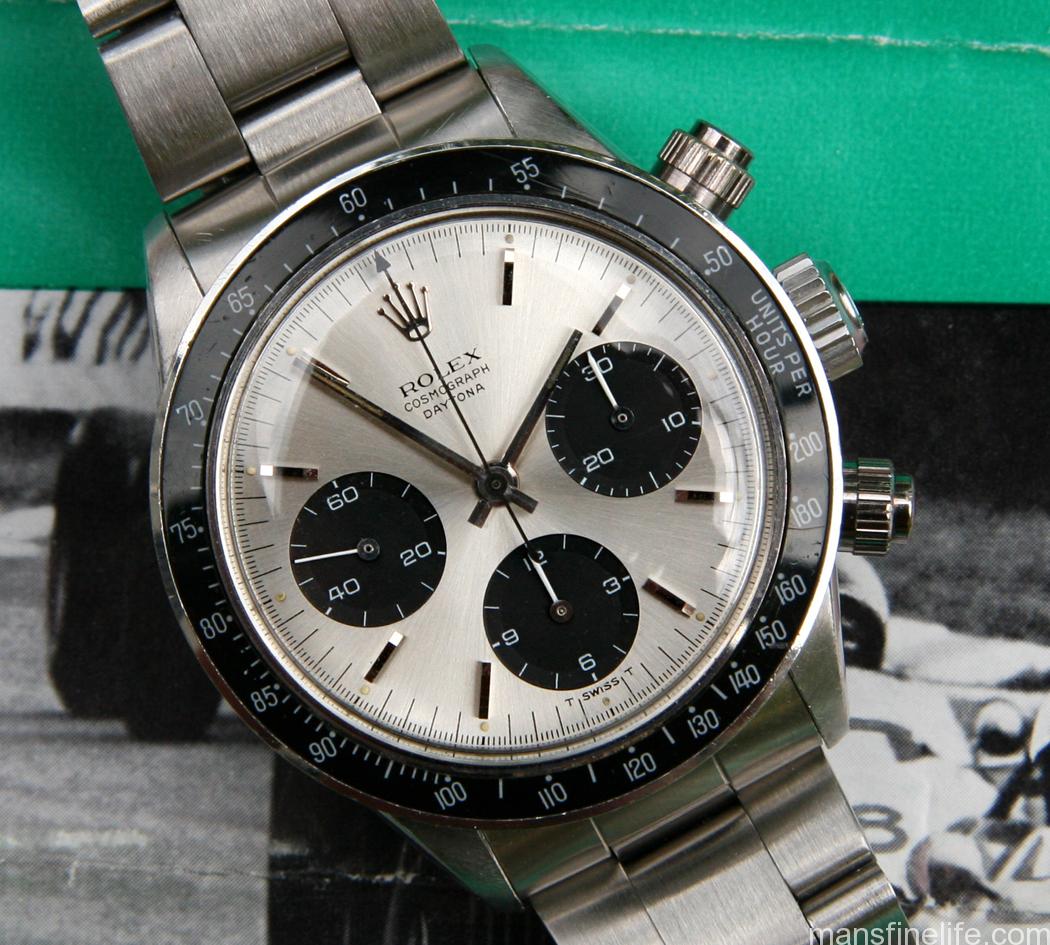 So all that backstory accounted for why is this Daytona a keeper for me? Well, for one thing it's a relatively rare reference as far as Cosmographs go, perhaps the third most uncommon model reference behind the extremely short run ref. 6262 pump pusher model and maybe the pump 6264. It's certainly the rarest screw pusher model. And since it is also the first screw pusher Rolex chronograph that also makes it a bit special, as it represents a significant technological innovation in chronograph design. Obviously I love the look — it's very clean and mid-60s with the simple, elegant bar markers and elongated stick hands. The way the black acrylic Tachy insert plays off against the black subdials is magic, not to mention that shimmering quality that the silver sunburst dial has due to the lacquer coat. At 37mm it's a perfect size in my estimation, fit for any occasion casual or formal, and it's also in all-original condition. And frankly it's a premier Rolex Grail-type watch to other collectors, a prestigious reference that is simply difficult to come by in the watch world and a true blue chipper seemingly immune to the whims of fad or fashion. Because let's be honest — status is not inconsequential to the pieces we choose to keep in our collections, whether we think we've found a sleeper or whether we're buying into an established hierarchy of elite watches. Fair or not, the Rolex Daytona is widely considered the king of vintage chronographs and the 6240 is right up there with anything that isn't a PN or Killey.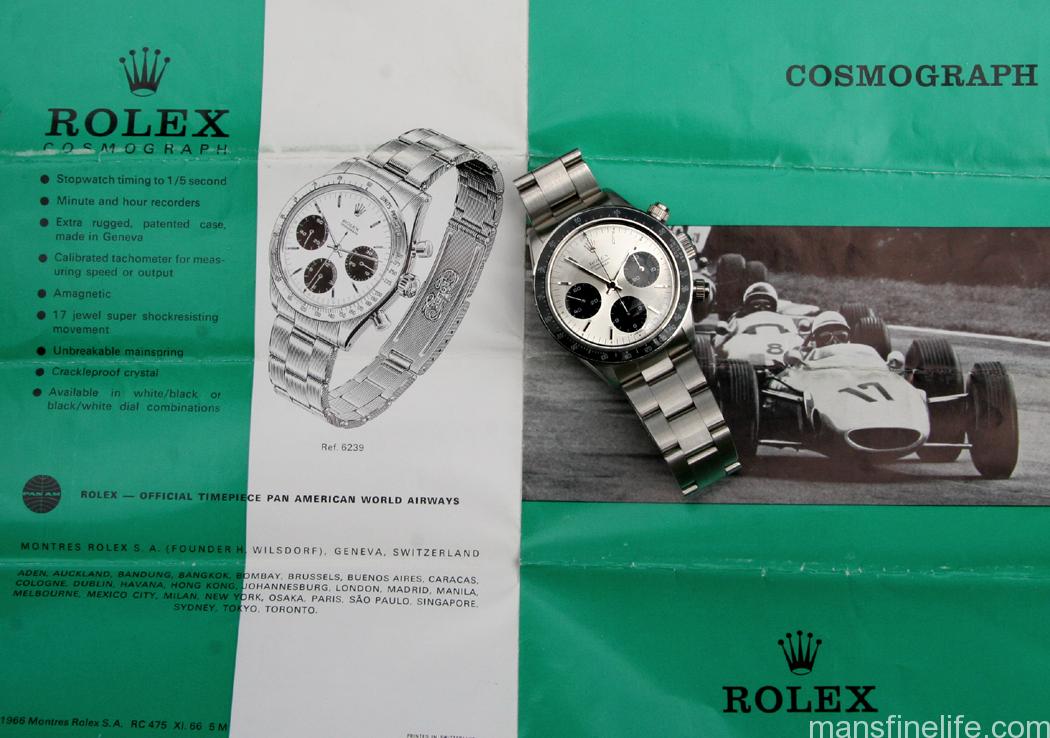 Lastly, with the honest admission that money is always a part of the equation, when I bought the watch I felt I paid a small fortune because for me it was. But it was right after the bubble had burst post-Revolution in mid-2009 (not to mention post-housing bubble) and actually Daytona prices were a bit soft. Since then they have more than recovered and lately they seem to have gone bananas again, as with so many nice vintage mechanical chronographs. So on the one hand it remains a solid investment and on the other I probably couldn't afford to buy it again. It was a stretch nine years ago but nothing like the stretch it would be now and I'd have a hard time justifying spending that kind of money on one watch, no matter how fantastic. So I'm happy to have bought it when I did even though it was still a hell of a lot of money at the time.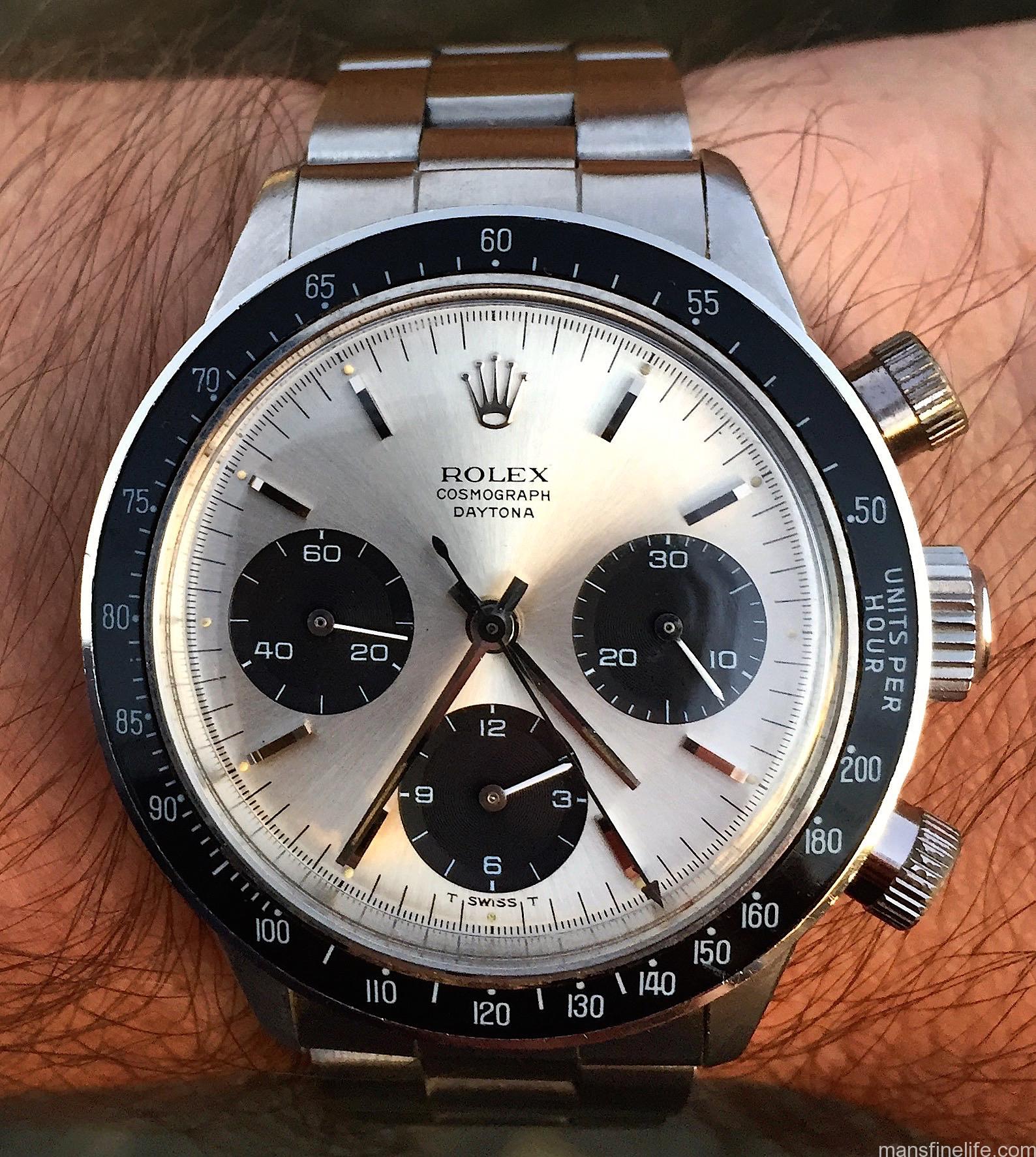 All these factors add up to the sum total of why I keep any watch in my permanent collection: beauty and aesthetic appeal first; then desirability and overall importance within the watch world; and then monetary considerations. For me, this 6240 Daytona Cosmograph also marks a milestone in my collecting life where I saw a watch from my ultimate wish list and converted it into something I actually owned and could wear anytime I wanted. It still gives me a thrill every time I see it, wind it up & strap it on and I still feel a sense of accomplishment as a watch collector by having it in my collection. And isn't that really be the definition of a Keeper?