The heroes of our youth continue to fade away. So it is with the passing of Sir Roger Moore Tuesday, May 23 at the age of 89 after a life very well spent. The Guardian's obituary is here.
Moore was "our" James Bond for those of us growing up in the 1970s and early 80s, an impossibly suave and arch version of Ian Fleming's iconic super spy. Taking over the role at 45 from the great Sean Connery and Aussie George Lazenby, who flamed out after one very good outing (On Her Majesty's Secret Service), Moore slowly moved the portrayal of Bond away from the super macho style that Connery personified and into a more self-aware, almost ironic approach. With his first two outings as Bond, the very good blacksploitation hybrid Live And Let Die and the rather less effective The Man With the Golden Gun, Moore seemed to be trying to split the diferrence between his own mischievous personality and the hardness of the Connery era, including slapping women around nonchalantly. But as two-time Bond movie alum Maude Adams famously remarked that was simply not Roger. And as the movies became more gadget driven and wilder in concept, culminating in the very wacky Moonraker that tried to capitalize on the Star Wars craze by putting Bond into space, Moore's self-aware bemusement served the ever more hyperbolic franchise well. Even if today's pundits are quick to dismiss the Moore era as lightweight and his portrayal of Bond as lacking in gravitas this misses the zeitgeist of when his films were made. The 70s were not a time of gravitas but rather The Me Decade, a time of partying down and sexual abandon, of thinking less and doing more. And so Moore's Bond was simply suitable to the times. He seemed to recognize that his perfect features constituted the most important weapon in Bond's ultimate pursuit, the conquest of women while in the service of the Queen. It's certainly no accident that he essayed the role 7 times over 12 years, even if by his last outing in 1985's A View To A Kill his knees seemed to be showing their 57 years more than that well-tanned face. Yet he still managed to take on the Amazonian Grace Jones and a very nasty Christopher Walken, as well as bed Tanya Roberts in the process, so you could say Moore's Bond retained the good stuff even in his swan song.
Moore had been a major international TV star before being cast in Live And Let Die in 1973. His big break came when he took over from James Garner as his British cousin on Maverick in the early 1960s after working regularly in other action roles on American television. Most importantly, he played Simon Templar in The Saint from 1962 to 1969, a cultured thief who only steals from other criminals. The series was a huge hit both in England and in the US and probably put Moore on Albert Broccoli's radar as a potential future Bond. He was also immensely enjoyable as one half of the wealthy oil-and-water crime fighting duo in The Persuaders! alongside a manic Tony Curtis, bickering and galavanting their way through jet set Europe and generally having a ball. While the series was not the big hit in the States that the producers hoped it remains a very enjoyable cult classic and peak super suave Moore (check out his very early-70s self-designed wardrobe as Lord Brett Sinclair). After his time as Bond, Sir Roger became a UNICEF Goodwill Ambassador due to the example and influence of his friend, Audrey Hepburn. He was knighted by the British Empire in 2003 for his years of service doing that worthwhile charitable work and his special focus on helping children in the developing world.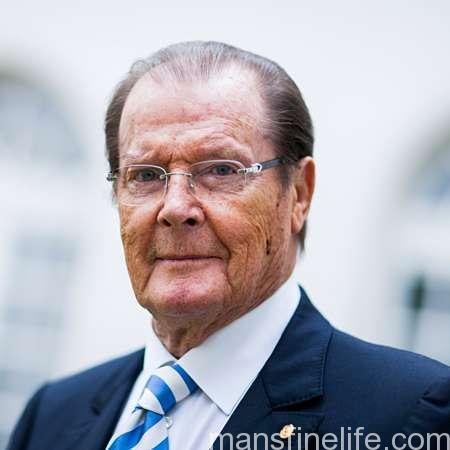 Roger Moore liked beautiful women, finely tailored clothes, good cigars and good drink and most of all pleasant company. He loved playing  James Bond and never struggled with being strongly identified with the role, as so many of the other actors have (with the notable exception of Pierce Brosnan). For him, Bond and his ever wilder and more humorous adventures were all great fun to be approached with a raised eyebrow and a good quip but not too much perspiration. There was never any doubt he was going to accomplish his mission, kill the villain and sleep with the girl. He made the James Bond movie a terrifically enjoyable experience during a time when the films were real blockbuster summer events. His was an angst-free Bond for a hedonistic era, helping perfect an over-the-top formula that simply worked like a charm nearly every time. If tastes have changed and authenticity is now the new fetish that is no fault of Moore's. He had the light touch at the right moment and his films remain the most consistently and purely fun of the franchise's epic run. So godspeed to Sir Roger Moore and may he rest in peace. He brought the world a lot of joy and entertainment and did a lot of good work in his long time on this earth. He is the first cinema Bond to pass on and certainly one of the most loved. But even with that towering cinematic accomplishment he'll be even more fondly remembered as Roger Moore the kind, funny and very generous human being. Just read this great anecdote from a fan who met him as a child and then again as an adult for proof of that.