Rain plays havoc at Interlagos but Hamilton prevails, Rosberg hangs on for P2; Verstappen puts in wonder drive in the wet for stunning P3
A steady downpour enveloped Autodromo Carlos Pace on Sunday during the Brazilian Grand Prix. On a track better known as Interalgos, veritable rivers and lakes of standing water created havoc from the start to the end of the protracted contest, the penultimate of the year, causing numerous crashes, Safety Car periods and two prolonged Red Flag stoppages. In the end, with the championship one greasy moment away from being decided by an unfortunate incident, both key contenders managed to keep it on the black stuff and finish in their best possible positions. Mercedes teammates Lewis Hamilton and Nico Rosberg crossed the line 1-2 on this treacherous day, with Hamilton securing the victory he needed to keep his championship dream going into the last race at Abu Dhabi and Rosberg holding on for second to limit the damage. With Hamilton starting from pole and front-running out of the blinding spray for nearly the entire race, Rosberg did well to secure P2. The German looked much less assured than Hamilton for the entirety of the race, seeming to tiptoe around at times. But description proved to be the better part of valor because the Championship is still Rosberg's to lose and while he might have tried to take risks and gone for the win that would have clinched his first-ever title this was simply not the day for it in rainy Sao Paolo, as car after car spun off and out of the GP. So Roseberg did what he had to do to limit Hamilton's gains, with the Englishman's gritty and poised performance good enough for the victory, his third on the trot, and pulling him within 12 points of his archrival Rosberg with all to play for in the final contest. As it is, Rosberg must only finish 3rd or higher in Abu Dhabi to claim his prize in two weeks and vanquish his tormentor. Game on.
The results might not have been as kind for Rosberg had Red Bull not made the inexplicable decision to pit for Intermediate wet tires for their young phenom, Max Verstappen, on Lap 41 with the rain still bucketing down and a lousy forecast looming. When Williams' Felipe Massa lost it and crashed out shortly thereafter on Lap 47 and with conditions not improving, Verstappen and his team made the decision to go back to Full Wet tires during the ensuing Safety Car period. This extra change cost the Dutchman valuable track position and shuffled him back to P14 upon the restart. But with the freshest deep-groove rubber in the race and less than 20 laps remaining in the 71-lap contest, Verstappen began a remarkable surge through the field, picking off first his teammate Daniel Ricciardo and then a fleet of other competitors. Using unconventional lines reminiscent of karting, Verstappen passed far off the standard racing line, counterintuitively seeking out the parts of the track where rubber had not been laid down that were actually less slippery in the rain. As the laps wound down, Verstappen made short work of Daniil Kvyat, Estaban Ocon, Felipe Nasr and Nico Hulkenberg. On Lap 67 he confronted Ferrari's Sebastian Vettel, who tried to defend but was still no match for the hard-charging Red Bull. With the teenage wunderkind executing a power move up the inside to take P4, Vettel was forced wide onto the rumble strips and was left to sputter and gripe on the radio about the unfairness of it all, as the former 4-time World Champ has so often done this disappointing season. On Lap 70, Verstappen completed his amazing ascension to the podium seizing P3 from Force India's Sergio Perez by holding the inside line over a series of corners until the talented Mexican had to yield. In the end it was a remarkable performance in the trickiest of conditions and validated once again why Verstappen is held in such high regard for his pure driving skills, which are sure to get even better as the 19-year-old matures and gains more experience. One wonders where he might have finished had Red Bull not made that dubious extra tire stop — would he have had something for Rosberg and maybe even Hamilton at the end? But then perhaps we would not have all been treated to one of the great drives in F1 history.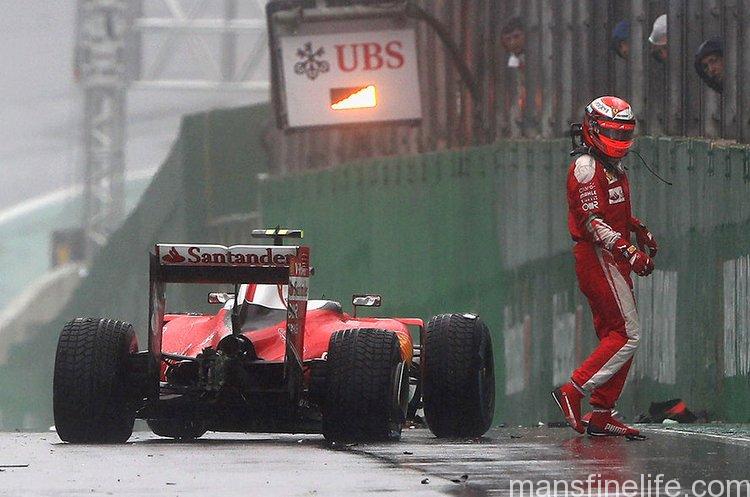 Perez still did very well to come home P4, while his Force India teammate Nico Hulkenberg finished P7 despite an ill-timed post-Safety Car puncture. It was a raft of very valuable Constructors' points for the little Force India team on a day when Williams, their closest rivals for 4th in that highly lucrative championship, scored precisely zero. Force India now leads Williams by 27 points and it would be a great fillip for them to prevail over the well-funded and storied Williams squad. Vettel scored the only points for Ferrari with his grudging P5 after his teammate Kimi Raikkonen aquaplaned and crashed out in a scary tank-slapper down the start-finish straight on Lap 20 while running in P3. The accident left the Finnish veteran facing the wrong way and several oncoming cars narrowly missed him due to the limited visibility. But thankfully Raikkonen was able to climb out unscathed, though his shunt led to first a prolonged Safety Car period and then a Red Flag as the weather deteriorated. It also led to Red Bull's Daniel Ricciardo getting his timing wrong and coming into the pits when they were closed for clean up of Raikkonen's Ferrari above the pit entry. That led to a 10-second penalty for the Aussie and ended his chance at a high finish — Ricciardo wound up coming home P8. Still the Red Bulls outscored the Ferraris yet again and clinched second in the Constructors,' punctuating their terrific second half surge.
Toro Rosso's Carlos Sainz once again scored huge points for his team, taking P6 by dint of survival and good race craft, and Sauber's Felipe Nasr tallied the team's first points of the season with a jubilant P9, jumping them up over Manor for 10th and the last financial payout. McLaren's Fernando Alonso took the final points-paying position with P10, as the Honda-powered team look ahead to 2017 and to put a pretty dreadful 2016 behind them.
Top 10 finishers in the Brazilian Grand Prix:
POS
DRIVER
CAR
LAPS
TIME/RETIRED
PTS
1
44
 
MERCEDES
71
3:01:01.335
25
2
6
 
MERCEDES
71
+11.455

s

18
3
33
 
RED BULL RACING TAG HEUER
71
+21.481

s

15
4
11
 
FORCE INDIA MERCEDES
71
+25.346

s

12
5
5
 
FERRARI
71
+26.334

s

10
6
55
 
TORO ROSSO FERRARI
71
+29.160

s

8
7
27
 
FORCE INDIA MERCEDES
71
+29.827

s

6
8
3
 
RED BULL RACING TAG HEUER
71
+30.486

s

4
9
12
 
SAUBER FERRARI
71
+42.620

s

2
10
14
 
MCLAREN HONDA
71
+44.432

s

1
Complete race results available via Formula1.com.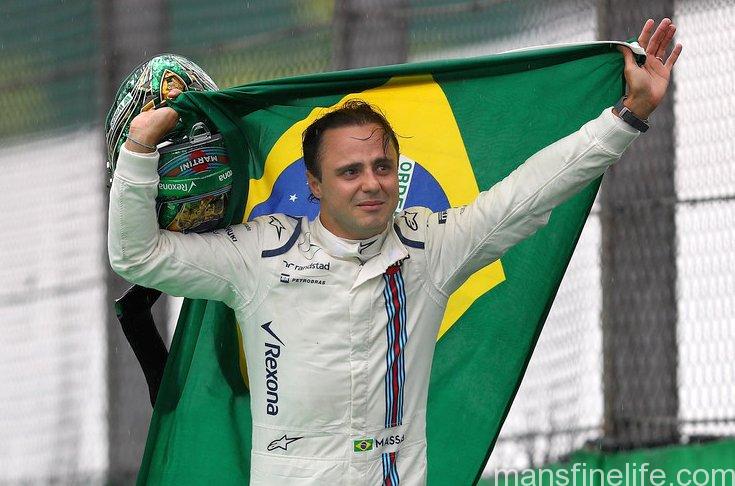 Notes: Aside from Raikkonen & Massa, Sauber's Marcus Ericsson also crashed out during the race and Haas' Romain Grosjean binned it on the formation lap, terminally damaging his chassis. For Massa, the Brazilian veteran who is retiring at the end of the season, it was a particularly sad way to go out of his last home Grand Prix. However it led to some magical moments as the rain soaked Massa climbed out of his wrecked car, saluted the adoring fans, cloaked himself in the Brazilain flag and then, weeping openly, was greeted and hugged by his wife and young son, as well as his current Williams and former Ferrari crews as he walked through the pits. With Jenson Button also stepping away at the end of the year, two great veterans are exiting the sport, making room for up and coming new talent, the inevitable bittersweet changing of the guard in any professional sport.
In other changes, it was announced that Kevin Magnussen has signed to drive with Haas F1 next year, bumping Esteban Gutierrez for the seat. And Manor's rookie Esteban Ocon will jump over to Force India to replace the Nico Hulkenberg, who is departing for the factory Renault drive. Lance Stroll will partner with Valtteri Bottas for Williams after Massa's retirement and Belgian sensation Stoffel Vandoorne will replace outgoing Jenson Button at McLaren.
The next and final race weekend is in two weeks time, November 25-27th from the spectacular and futuristic Yas Marina Circuit in Abu Dhabi. While the chance of rain is practically nil the chance of drama is 100%, as Rosberg seeks to hang on for his long-dreamed of first World Championship and Hamilton looks to come from behind and break Rosberg's heart yet again. With only the long winter ahead of us after this final F1 Grand Prix you don't want to miss it. Hope to see you then to see how it all shakes out!