Hamilton triumphs for 3rd straight win at Silverstone; Rosberg loses P2 to Red Bull's Verstappen on radio penalty
In a remarkable race in front of his countrymen and with typically rainy English summer weather as a key subplot, Mercedes' Lewis Hamilton triumphed over the elements and his rivals, taking a remarkable third consecutive victory at the historic Silverstone circuit in Great Britain. Not only did Hamilton beat his points-leading teammate, Nico Rosberg, but he continued to ratchet up the pressure on the German contender by taking victory in four out of the last five contests. Hamilton even got a bonus — and Rosberg another psychological blow — when the stewards penalized Rosberg and his race engineers for disclosing too much "driver coaching" information over the radio late in the Grand Prix when he had a problem with 7th gear. The 10-second time penalty subsequently imposed meant that P2 went to Red Bull's wunderkind, Max Verstappen, rather than to Rosberg's true positional second-place finish, doubly galling for the Mercedes driver, as he had spent so much of the second half of the race trying to get by Verstappen. After his win at the British GP, Hamilton now sits only one slim point behind Rosberg in the Drivers' Championship and also seems to have the lucky breaks back on his side again. With only two contests remaining before the long August break, Rosberg has got to try to recapture the momentum that propelled him to four straight wins to start the year, lest his fragile psyche crumbles in the face of Hamilton's typically ruthless onslaught.
For Verstappen and Red Bull, Rosberg's technical misfortune was their boon. The 18-year-old Dutchman and his RB-12 chassis excelled in the wet conditions that prevailed in the early part of the contest. With a little more oomph from the "Tag Heuer" (really a beefed-up Renault) engine, it's possible that the Red Bulls could be a legitimate threat for victories against the mighty Silver Arrows. And Verstappen is certainly living up to the hype despite his tender years. With more wet weather performances like the drive he put in at Silverstone, Verstappen could well inherit the "Rain Meister" title that has been in mothballs since Michael Schumacher's retirement. Daniel Ricciardo was again not as fast as his precocious teammate and something about his demeanor seems to have darkened considerably since his massive disappointment at Monaco this year when poor pit work by the team literally threw certain victory away. The normally ebullient Aussie did manage a solid 4th-place finish but his 18-second deficit to Vertappen extinguished his normally electric smile.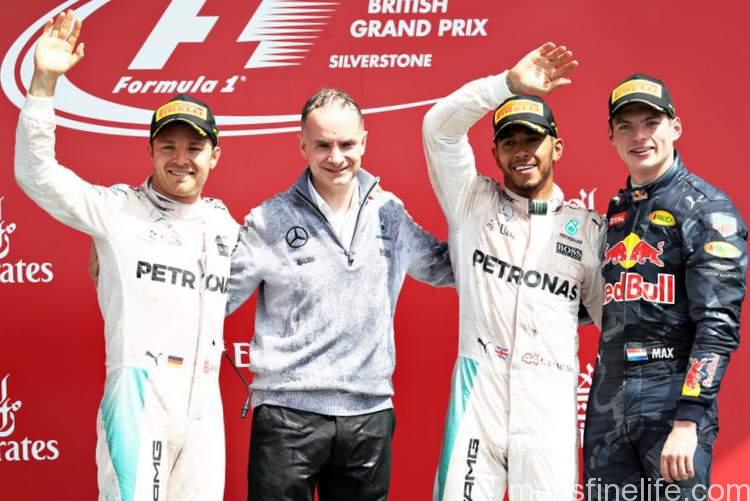 Ferrari had another tough race weekend and must be wondering if their early season improvements have been caught up by the other teams. In particular, the Red Bulls now seem superior to the Scuderia's SF16-H chassis and they are down to a mere 6-point lead over them in the Constructors' Championship. And with mechanical issues bedeviling their lead driver, Sebastian Vettel — he had a second consecutive 5-spot grid penalty for a gearbox change and started P11 — it seems that good points are getting harder to come by for Maranello, let alone chances of outright victory. Vettel made up a few positions but still could only muster a P9 finish. He also saw his teammate Kimi Raikkonen best him by taking P5, the second race in a row the recently re-signed Finnish veteran has placed higher than the former 4-time World Champ.
On the flip side of expectations, little Force India had an outstanding day, raking in a huge and ultra-valuable cache of points when Sergio Perez and Nico Hulkenberg finished P6 and P7 respectively. The two Toro Rossos of Carlos Sainz and Daniil Kvyat also did well, splitting Vettel in P8 and P10 respectively. For Kvyat it was an especially much-needed point, stanching a string of disasters dating back to his demotion from the senior Red Bull team in May.
But for Hamilton it was all blue skies even on a rainy day. The victory was also historic, as he became the first driver to win 3-in-a-row at Silverstone and won his 4th British GP overall, tying him with Nigel Mansell and leaving him only one behind Alain Prost and the great Jim Clark for overall victories in this oldest of F1 contests. Coming in already riding a hot streak, the supremely confident Hamilton got even more of a boost through his continued mastery of the tricky former WWII airbase circuit. Rosberg must certainly be feeling the Englishman's hot breath on his neck now, as nearly all the rewards for his early season triumphs have evaporated like rain on a drying track.
Top 10 finishers at the British GP:
POS
DRIVER
CAR
LAPS
TIME/RETIRED
PTS
1
44
 
MERCEDES
52
1:34:55.831
25
2
33
 
RED BULL RACING TAG HEUER
52
+8.250

s

18
3
6
 
MERCEDES
52
+16.911

s

15
4
3
 
RED BULL RACING TAG HEUER
52
+26.211

s

12
5
7
 
FERRARI
52
+69.743

s

10
6
11
 
FORCE INDIA MERCEDES
52
+76.941

s

8
7
27
 
FORCE INDIA MERCEDES
52
+77.712

s

6
8
55
 
TORO ROSSO FERRARI
52
+85.858

s

4
9
5
 
FERRARI
52
+91.654

s

2
10
26
 
TORO ROSSO FERRARI
52
+92.600

s

1
Complete race results available via Formula1.com.
The next race is at Hungary in two weeks time. With the battle for the top spot tight as a tick it's bound to be a real wing ding at the Hungaroring. Hope to see you then!