Hamilton repeats as World Champion in thrilling USGP; Rosberg blows lead, holds off Vettel to help teammate clinch
An emotional Lewis Hamilton clinched his second consecutive Formula 1 Drivers' World Championship and third overall in thrilling fashion, culminating an epic Grand Prix weekend at Circuit of the Americas in Austin, Texas, as well as the English driver's season-long quest to defend his title. That also completed the double for the Mercedes factory team, as the Silver Arrows had already won the Constructors' Championship some weeks ago, also the team's second in a row. Hamilton's three total World Championship now puts him in an elite group of drivers with 3 titles that includes the late Jack Brabham, Jackie Stewart, Niki Lauda, Nelson Piquet and Hamilton's personal hero, Ayrton Senna. As the newly crowned champ circulated on his victory lap, he could be heard over the radio in a voice thick with emotion proclaiming this the best day of his life. And who could argue with him?
After the eastern edge of Hurricane Patricia battered the track all weekend long, forcing the postponement of Qualifying to Sunday morning, the precipitation lightened leading up to the 2:30pm Central race start time. The F1 drivers acquitted themselves extremely well in the rare and very wet race day-morning qualifying session and all the cars started on the Intermediate wet weather tires, with Hamilton in P2 and his Mercedes teammate Nico Rosberg on the pole. But going up the big hill that leads to turn one of COTA, Hamilton's P2 actually gave him the preferred inside line and he muscled Rosberg off the edge of the track limits and into the large runoff area, snatching the lead of the race in decisive fashion just as he has so often done the past two years. In the early going it looked like not only would Rosberg be nipping at Hamilton's heels all race long but also the two Red Bulls, which looked very well planted on the saturated circuit. In fact, Russian Daniil Kvyat snuck by Rosberg when he was pushed wide and ran very close to the Hamilton on the opening laps, with teammate Daniel Ricciardo pursuing the agitated Rosberg for P3.
But Rosberg was able to hold Ricciardo off while maintaining the gap to Kvyat and after a virtual safety car period for debris ended on Lap 7, Rosberg surged by the young Russian on the restart to reclaim his second place and try to take the fight to his nemesis and teammate. By now, between the excellent drainage of this new circuit and the sudden lack of rain, it seemed only a matter of time before enough of a dry line would form and some brave soul would make the switch to slicks. Sure enough, Lotus' Romain Grosjean became the first to take the gamble for dry weather tires on Lap 11. But it was slightly too soon and the Frenchman could find no grip or pace. However, the circuit was now definitely drying enough to do damage to the grooved intermediate tires and it seemed especially to be wearing out Hamilton's rubber. Ricciardo's Red Bull was still performing well on his original set of intermediates, however, bagging both Kvyat and Rosberg and was soon breathing down Hamilton's neck, as well. On Lap 15, Ricciardo passed him for the lead.
That was the cue for the Mercedes team to get their drivers onto slicks and the struggling Hamilton came into the pits first on Lap 19. The Englishman would emerge back in 4th position with Rosberg assuming the overall lead temporarily. But on Lap 27 Sauber's Marcus Ericsson came to an abrupt stop on track when he lost power, prompting a safety car. This saw Ferrari's Sebastian Vettel make arguably the move of the race, as he dove into the pits and his team put him on the harder Medium compound tires, meaning that he should be able to go to the end of the race without stopping again, unlike the other contenders. Vettel, who was forced to start from 13th on the grid after an engine change penalty, had been charging through the field from the start of the race and now appeared to be sitting in the pound seats. Indeed, after the Safety Car pulled in, Vettel quickly passed Kvyat and Ricciardo to jump himself up to third overall, a remarkably good performance by the German 4-time consecutive World Champion.
After another Safety Car period caused by Force India's Nico Hulkenberg bashing into Riccardo on Lap 36, ending what had been an excellent drive for the German Le Mans winner, Rosberg pitted for his last set of tires while Hamilton stayed out. It was now Hamilton leading, Vettel P2, and Rosberg P3. But Rosberg's fresh rubber enabled him to pass Vettel and a lap later Kvyat crashed heavily after  losing it when his rear tire got onto the still very wet and slippery astroturf just beyond the track limits on the second to last corner. This brought out yet another Safety Car and it looked for all the world like Rosberg would be able to ride away for the win with Hamilton doomed to pit again, forestalling the Englishman's Championship for at least one more week. Hamilton did pit under the Safety Car, as did Vettel. They returned to the track with Hamilton in P2 and Vettel P4 behind Toro Rosso's teenaged wunderkind Max Verstappen. But Verstappen's older rubber was no match for Vettel's freshly shod Ferrari and he quickly conceded 3rd place to the German. With the laps dwindling, it still looked like Rosberg's race to lose, though, and that meant that Vettel's slim title hopes were still mathematically alive.
Until, that is, Rosberg inexplicably lost control and ran wide on Lap 49, enabling Hamilton to capitalize and recapture the lead. If Rosberg did not despise Hamilton so much one might almost think team orders were at play with the intention of Rosberg ceding the lead to Hamilton to eliminate Vettel. That was the end result in any case even though Rosberg would likely rather eat glass than give Hamilton any gifts. Nevertheless, Hamilton took the present and ran, never looking back and once again making his Championship dream come true. Rosberg finished in second place in the race and third in the Championship, his unforced error in the US Grand Prix a fairly perfect symbol of his two years of frustration in trying to out-duel his teammate, who quite simply is a better driver and much better under pressure. Vettel could not get by Rosberg and had to settle for the last spot on the podium but still had a brilliant run in making up 10 total positions. Even if the German Ferrari man was downcast after the race with his faint Championship hopes finally extinguished he will hno doubt look back at his first year with the legendary Scuderia and be well pleased with both his and the team's genuine return to excellence after an awful 2014 for both of them.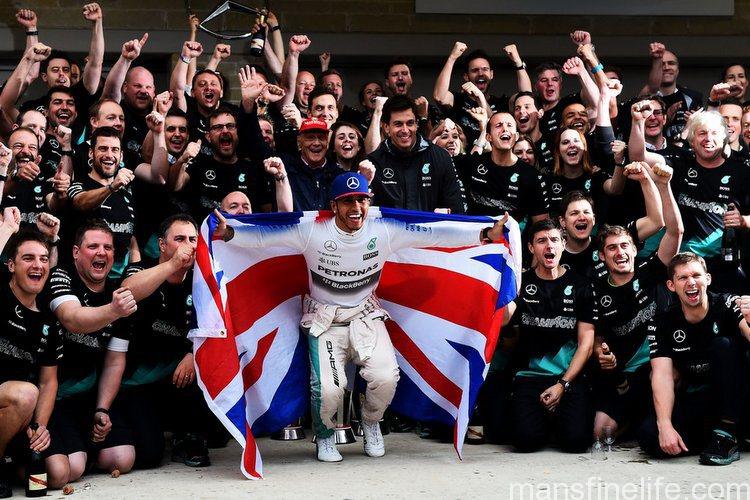 For Lewis Hamilton, yesterday was only confirmation of something every savvy race aficionado has known for some time: he is quite simply one of the all-time Formula 1 greats. Despite his sometimes prickly personality, he is a peerless competitor with a cutthroat style against any potential rival, whether on his team or nin a different livery. If you had to pick one of the current drivers you needed to pull off a successful overtaking move under pressure, Ham's your man. Rosberg can whinge about getting manhandled all he wants but winning talks and bullshit walks. Hamilton will push the limit as far as it will go for the win, sometimes even to the point of overstepping it. And that's what separates a winner like Hamilton from a talented also-ran like Rosberg in the dog-eat-dog world of F1, where winning justifies just about everything. Hamilton embodies that spirit for good or for ill and is a worthy Champion once again who stands toe-to-toe with the legends of the sport, past and present. You know once he dries his tears of joy and despite already wrapping up the Championship, he'll finish out this exemplary season with maximum effort and that same hunger for total victory. And he's probably already thinking about gunning for Vettel's 4-title mark next season.
Top 10 finishers in the US Grand Prix:
POS.
DRIVER
COUNTRY
TEAM
TIME
POINTS

1

LEWIS 

HAMILTON

GBR
MERCEDES
1:50:52.703
25

2

NICO 

ROSBERG

GER
MERCEDES
+2.850

s

18

3

SEBASTIAN 

VETTEL

GER
FERRARI
+3.381

s

15

4

MAX 

VERSTAPPEN

NED
TORO ROSSO
+22.359

s

12

5

SERGIO 

PEREZ

MEX
FORCE INDIA
+24.413

s

10

6

JENSON 

BUTTON

GBR
MCLAREN
+28.058

s

8

7

CARLOS 

SAINZ

ESP
TORO ROSSO
+30.619

s

6

8

PASTOR 

MALDONADO

VEN
LOTUS
+32.273

s

4

9

FELIPE 

NASR

BRA
SAUBER
+40.257

s

2

10

DANIEL 

RICCIARDO

AUS
RED BULL RACING
+53.371

s

1
Complete race results available via Formula1.com.
The next race is next weekend and marks the return of the Mexican Grand Prix to the schedule. Turnout should be amazing and after this absolutely thrilling weekend in Austin it should be must see tv to find out what thrills await us South of the Border. Hope to see you then!