Verstappen victorious for Red Bull in Malyasia, Ricciardo P3; Hamilton extends lead with P2 but Vettel pulls miracle drive to come from last to fourth
Max Verstappen took full advantage of Ferrari's startling misfortune and mediocrity by Mercedes to take a dominant victory at the Sepang Circuit on Sunday. The young Red Bull driver, who only turned 20 on Saturday and whose 2017 season has been blighted by bad luck, finally had something to cheer about when he overtook the pole-sitting Mercedes of Lewis Hamilton early in the race and never looked back, besting the points leader by a whopping 12.77 seconds at a track that rightly should have suited the Silver Arrows. Verstappen and Red Bull were also aided by more unreliability at Ferrari when their best placed driver, Kimi Raikkonen, was unable to start the race with what appeared to be the same turbo problem that bedeviled Vettel in qualifying, sending him to the back of the grid without setting a time. So instead of the Iceman fighting with Hamilton for victory the stunned Ferrari garage was left praying for their lone surviving Prancing Horse to make a miracle run through the field just two weeks after their catastrophic double-DNF in Singapore .
But Maranello's prayers were nearly answered, as Vettel methodically carved his way through back-markers with a masterful effort to put himself in striking distance of the podium. With the laps winding down the 4-time world champion amazingly found himself duking it out with Verstappen's veteran teammate, Daniel Ricciardo, for the last step on the podium. But the gritty Aussie managed to hold Vettel off long enough for the latter's tires to lose their punch and it was Ricciardo who took that valuable P3. That sealed a very good day for Red Bull at a track where they always seem to run well — the current line-up went 1-2 last year after a Hamilton engine failure and Vettel won three out of the four contests during his championship run at Red Bull between 2010 – 2013. The team must be sad to see Malaysia being dropped from the schedule for next year. Still, despite Ferrari's disappointment it was a good day of damage limitation for Vettel with Hamilton only adding 6 points to his now-34 point lead in the Championship on a day where it looked like the Englishman might outscore the German 25 to nil. And as if the weekend was not bizarre enough for the Scuderia, Vettel and Williams' Lance Stroll came tohgther on the cool down lap, totaling Vettel's SF70H. It was the perfect ending to a perfectly ghastly weekend and it's certain they can't wait to turn the page at Suzuka and hopefully exploit their new found race pace without anymore technical glitches in the final five Grand Prix.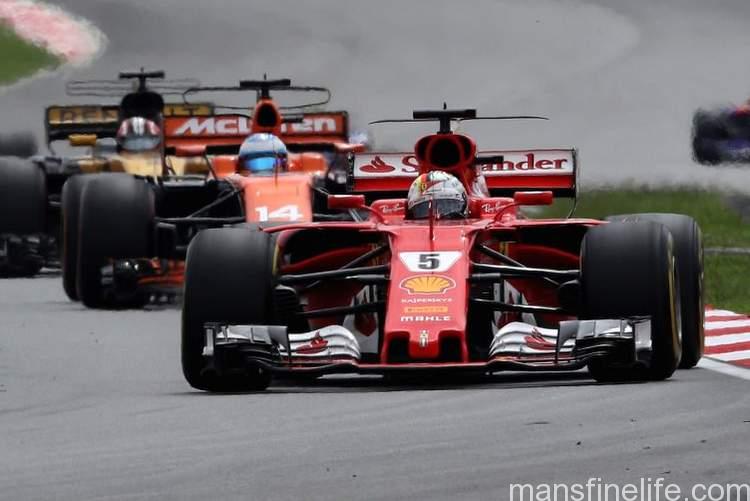 Further behind the frontrunners, Hamilton's teammate Valtteri Bottas had a bit of a mystifying weekend and found himself well off the truly competitive pace. Bottas finished where he qualified in P5, some 44 seconds behind Hamilton, and struggled to get temperature and balance into the front tires with some new aero tweaks that Hamilton chose not to run. So perhaps the split strategy hurt Mercedes in terms of maximizing points. But it could also be that Bottas has hit a bit of personal slump with his recent run of underwhelming performances. Sergio Perez did rather better in maximizing the perfomance of his Force India coming home a solid P6 despite once again getting together briefly with his junior teammate Esteban Ocon. Ocon, who also had a few other skirmishes throughout the race, could do no better than P10, although it was still a good points haul for overachieving Force India. Stoffel Vandoorne had another strong drive for McLaren for his second consecutive P7 finish (his teammate Fernando Alonso finished outside the points in P11). The two Willaims of Lance Stroll and Felipe Massa also had eventful races but both managed to make it to the end in P8 and P9 respectively with the Stroll-Vettel contretemps mercifully coming after the checkered flag had flown.
Top 10 finishers of the Malaysian GP:
POS
DRIVER
CAR
LAPS
TIME/RETIRED
PTS
1
33
RED BULL RACING TAG HEUER
56
1:30:01.290
25
2
44
MERCEDES
56
+12.770

s

18
3
3
RED BULL RACING TAG HEUER
56
+22.519

s

15
4
5
FERRARI
56
+37.362

s

12
5
77
MERCEDES
56
+56.021

s

10
6
11
FORCE INDIA MERCEDES
56
+78.630

s

8
7
2
MCLAREN HONDA
55
+1

lap

6
8
18
WILLIAMS MERCEDES
55
+1

lap

4
9
19
WILLIAMS MERCEDES
55
+1

lap

2
10
31
FORCE INDIA MERCEDES
55
+1

lap

1
Complete race results available via Formula1.com.
With the races dwindling to a handful the next key contest is in but a week's time from the always challenging Suzuka International Racing Course in Japan. Will Red Bull continue to make life difficult for the frontrunners and perhaps play spoiler? Can Ferrari get back on the beam and get both cars through a full race? And will Hamilton and Mercedes return to their dominating ways before heading to the Americas for the stretch run? Hope to see you then to find out!