Hamilton storms to much-needed victory in America, Rosberg limits damage with P2; Ricciardo strong again for Red Bull with 3rd place
Mercedes' Lewis Hamilton finally had the end to a race weekend he was looking for at a track he absolutely owns. Facing a victory drought dating back to Round 12 in Germany that also saw his championship lead ceded to his teammate and archrival Nico Rosberg over the course of those five winless Grand Prix, Hamilton was peerless in the USGP at the beautiful Circuit of the Americas in Austin, Texas. After setting a blistering pole time on Saturday, Hamilton finally made a good start when the lights went out, avoiding his chronic clutch-bite problems and warding off his nearest challengers, Rosberg and the two chasing Red Bulls, as they all climbed the iconic hill into Turn 1. The Englishman was never seriously challenged for the rest of the race and flew away to an unsurmountable lead free of any pit dramas or mechanical gremlins that might cost him this certain victory. In the end it was a drama-free and flawless run for Hamilton's 50th Formula 1 victory, which also put him the exclusive 50-win club that heretofore counted only Alain Prost (51) and Michael Schumacher (91) as members. Even more mind-blowing, it was Hamilton's astounding 4th victory in five races at COTA and his 5th overall US Grand Prix win in 6 contests dating back to 2012 at Indianapolis. Rarely has driver been so simpatico with a circuit and a country as Hamilton is with COTA and the USA. Truly, racing deep in the heart of Texas was the tonic the Briton needed to get him back on the front foot in his quest to overhaul Rosberg and take his third world title in a row. Hamilton now trails his German teammate by 26 points in the Drivers' Championship with three races left to be run.
Facing a Hamilton utterly in tune with a track and his car, the day for Nico Rosberg was one of damage limitation. While the current points leader had nothing for his Silver Arrows squad-mate, Rosberg drove a very solid race and avoided problems and contact that might have cost him valuable positions and points. Using matching tire strategies, Mercedes was able to correctly anticipate Red Bull's plays and match them, using a Virtual Safety Car to quickly pit for fresh rubber and their chassis' overall superiority to run a very long closing stint on the Medium tires, the hardest compound on offer this weekend. That kept Rosberg safely out of the clutches of Daniel Ricciardo and allowed him to score a valuable P2 that limited Hamilton's gains and kept Rosberg looking like the favorite for his first-ever title.
Red Bull's Ricciardo was foiled by that VSC period and must have been doubly flummoxed when he found out it was produced by his teammate Max Verstappen's on track engine failure on Lap 31. Until then it looked like the smiling Aussie had a decent shot to fight it out with Rosberg for the second step on the podium. But with Mercedes capitalizing to make that quick pit stop and Ricciardo still out circulating at reduced VSC speed Rosberg came out well ahead. Ricciardo would never again have an opportunity to make it close and finished 15 seconds adrift of Rosberg. Still, it was good run for Red Bull's veteran driver and a solid P3 for the team. Unfortunately, they had to reckon with Verstappen's DNF and even before that the young phenom had inexplicably pitted without the team calling him in. So the Dutchman's race would have already been somewhat undone by the time his engine expired, though he almost certainly would have scored points.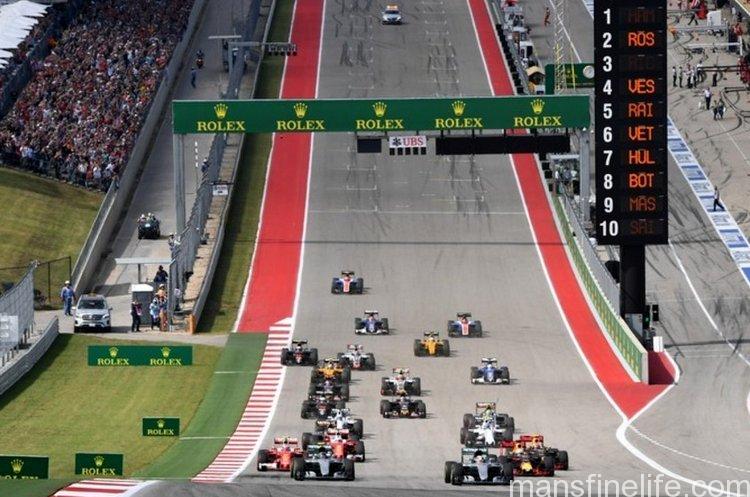 Fortunately for Red Bull and their goal of second place in the Constructors' Championship, Ferrari had problems of their own. Looking to capitalize on a strong run at Suzuka two weeks ago, the Scuderia instead scored an own goal when the team botched a pit stop for Kimi Raikkonen and failed to properly tighten a wheel nut. The Finn, who had been running very strong and might even have had something for Ricciardo at the end, instead had to stop at pit out on Lap 38 with a loose right rear wheel, backing in ignominiously to retirement after that unsafe release. That left it to Vettel to fly the flag for the Prancing Horse and the former 4-time World Champ was able to manage his tires well enough to take P4.  But with Verstappen already out of the race on Lap 31 this was a golden opportunity to make up ground on Red Bull with a strong double-points finish and Ferrari frankly flubbed it. With only three more contests remaining in the 2016 season Ferrari now trail Red Bull by a seemingly insurmountable 53 points.
McLaren saw some promising glimmers of hope at COTA despite a mostly dismal and desultory year so far. After being shut out of the points at their engine supplier Honda's home track at Suzuka two weeks ago, Fernando Alonso showed real pace in Texas and was able to dispatch with some competitive cars and capitalize on retirements to take a hard-earned P5. Better yet, Alonso's teammate Jenson Button clawed his way up from way back in P19 after a frustrating qualifying to come home a remarkable P9. It was only the fourth time this year that both McLarens finished in the points and the strong result gave the team hope that the future could well be brighter than these last two subpar rebuilding years.
Torro Rosso's Carlos Sainz also got a superb result for both himself and his beleaguered team when he gave a very strong effort to take P6 at the checkered flag. While he was overtaken late by a storming Alonso, Sainz still had to be well pleased at being able to show his quality again on such a big stage and giving the disappointing Toro Rosso team valuable points and a much-needed lift. Meanwhile, Felipe Massa managed to come home P7 in his last USGP but he was the sole Williams to finish in the points, as Valtteri Bottas was undone by a first lap puncture from which he could never recover. The Finn could never really recover and finished a disappointing P16, another poor result for a 2016 campaign that underwhelming Team Williams would like to forget.
Force India's Sergio Perez was also forced to fly his team's colors all by his lonesome in the Lone State State, coming home an acceptable P8 after his teammate Nico Hulkenberg was taken out in a Lap 1- Turn 1 melee with Vettel that was also responsible for Bottas' puncture at the start of the race. The normally steady German has now retired in three consecutive F1 Grand Prix at COTA and has never finished higher than P6 in the US Grand Prix. He'll be hoping for better things in the USA when he's driving for the factory Renault team next year. Romain Grosjean took the last points-paying position with P10 in his Haas. It was nice moment for the French driver and his American team, as Haas were able to score in their maiden run at their home GP. It also broke an 8-race scoring drought for the first-year team.
Top 10 finishers in the United States Grand Prix:
POS
DRIVER
CAR
LAPS
TIME/RETIRED
PTS
1
44
 
MERCEDES
56
1:38:12.618
25
2
6
 
MERCEDES
56
+4.520

s

18
3
3
 
RED BULL RACING TAG HEUER
56
+19.692

s

15
4
5
 
FERRARI
56
+43.134

s

12
5
14
 
MCLAREN HONDA
56
+93.953

s

10
6
55
 
TORO ROSSO FERRARI
56
+96.124

s

8
7
19
 
WILLIAMS MERCEDES
55
+1

 lap

6
8
11
 
FORCE INDIA MERCEDES
55
+1

 lap

4
9
22
 
MCLAREN HONDA
55
+1

 lap

2
10
8
 
HAAS FERRARI
55
+1

 lap

1
Complete race results amiable via Formula1.com.
The next race is but a week away — The Grand Prix of Mexico from the Autódromo Hermanos Rodríguez. Hope to see you then to find out if Hamilton can keep up the pressure on Rosberg and keep his championship dream alive for another week!