Mercedes' Bottas holds off Ferrari's Vettel for maiden F1 win; Raikkonen P3 for the Prancing Horse; Hamilton off the podium in P4
Valtteri Bottas drove a nearly flawless race to score his first-ever Formula 1 win at the Russain Grand Prix on Sunday. Always highly regarded in his years at Williams, the 27-year-old Finn is finally piloting a win-worthy ride with his unexpected elevation to a factory Mercedes drive after outgoing champion Nico Rosberg's surprise retirement at the end of last season. After showing promising pace in the first three rounds of 2017, Bottas put his excellent new equipment to best use at the Sochi Autodrom to claim his maiden F1 victory after 81 races, a great moment for any driver in the sport. Despite Ferrari's first front row lockout since 2008 Bottas got the jump on the two Prancing Horses of Sebastian Vettel and Kimi Raikkonen as the lights went out, surging from his P3 grid position up through the Ferraris to take the race lead with a fine outbreaking maneuver going into Turn 2. Proving once again that a strong start into clean air is worth its weight in gold in an F1 tilt, Bottas quickly stretched the lead over his two blood red pursuers, as well as his teammate Lewis Hamilton, who remained mired in fourth with mysterious overheating issues.
Despite an early Safety Car due to a collision between the Haas of Romain Grosjean and the Renault of Jolyon Palmer that bunched up the field before one full lap had even been run Bottas sprinted away again when the track went green three laps later, proving that his Silver Arrow had the legs for any and all comers on this day. Vettel's race engineers gambled on running a longer first stint than Bottas on the Ultra Soft Pirelli tire compound so that his Super Soft set would be fresher at the death of the race. As the laps wound down it looked like the bet might pay off for the Scuderia, with Vettel carving large chunks of time off the anxious Finn so desperate to see the checkered flag. But Bottas mastered his nerves and ran near-perfect laps under that considerable pressure from the 4-time World Champion just behind him. He also took advantage of slower traffic by not only picking them off quickly but also by deploying his DRS when close to the non-contenders to negate Vettel's own use of the open wing. Bottas came home .6 seconds to the good and after so much promise he will forever finally be known as a Formula 1 race winner. Now the question remains if he can build on this career-defining victory and truly challenge Hamilton for supremacy within the Mercedes team and perhaps even the World Championship.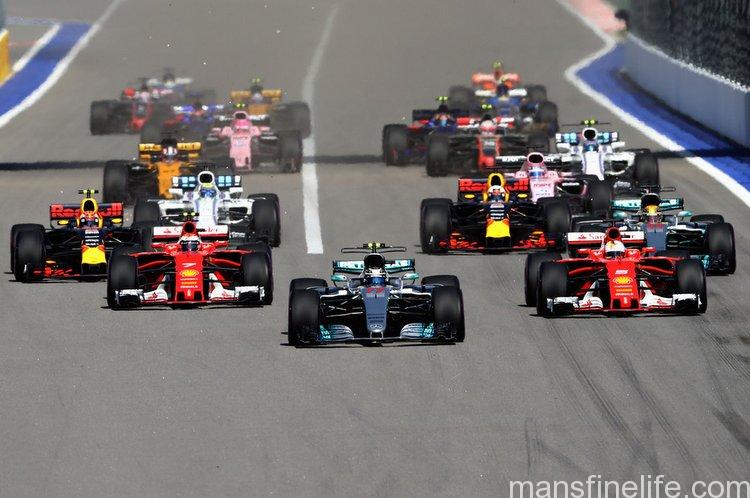 Despite their obvious improvement Ferrari must still have been somewhat disappointed at not getting the race victory after qualifying 1-2. But Vettel and Raikkonen did earn valuable points with their respective P2 and P3 podium finishes. Vettel now leads the Drivers' Championship by 13 points over Lewis Hamilton after four rounds and Ferrari are only one point behind mighty Mercedes in the Constructors' points. If Raikkonen can find a way to raise his game and take the fight to his teammate Vettel we could even be in for a crazy 4-driver slam bang shootout for the title. Certainly Mercedes and Ferrari have shown themselves to be the class of the manufacturers' field this season and the battle between the two elite automotive giants now appears to be so close that it could well go down to the final race to decide 2017's ultimate victor.
Bottas' Mercedes teammate Hamilton was left wondering how his weekend in Russa went so wrong. Continue reading →