Hamilton too quick for Vettel at Spa as title rivals finish 1-2; Ricciardo an opportunistic 3rd
Mercedes ace Lewis Hamilton returned from the summer break refreshed and ready to fight for his fourth World Championship. Needing to recapture momentum that had recently swung to his nemesis at Ferrari, points leader Sebastian Vettel, Hamilton threw down the gauntlet with a dominant performance at the legendary Spa-Francorchamps circuit in the Ardennes forest, the first of two back-to-back European classics that kick off the business end of the championship. Starting from his record-tying 68th pole position, a time that also set the track record, Hamilton kept his lead when the lights went out on Sunday and managed to hold off a hard charging Vettel in the opening laps and pull out a DRS-proof lead on the Ferrari. And when the race got bunched up again for a restart after a Safety Car period later Hamilton kept his cool and managed the trick again despite Vettel being on softer, grippier tires. Perhaps Hamilton benefited from the aero disruption in close quarters of this year's high downforce configuration chassis that seems to somewhat negate tire advantages between otherwise equally matched cars. And in the end Hamilton romped to victory in his 200th Grand Prix, his 3rd career win at Spa and the Englishman's 58th victory overall. That cut Vettel's championship lead back down to a mere 7 points. As the two team leaders head into Monza next weekend, which should be a frenzied sea of Ferrari red, it is clear that there is virtually nothing to choose between the Prancing Horses and the Silver Arrows. The key difference maker going forward will be the pilots. And with Hamilton and Vettel proving themselves superior to their teammates it is all but certain one of these superlative drivers will be the champion at season's end.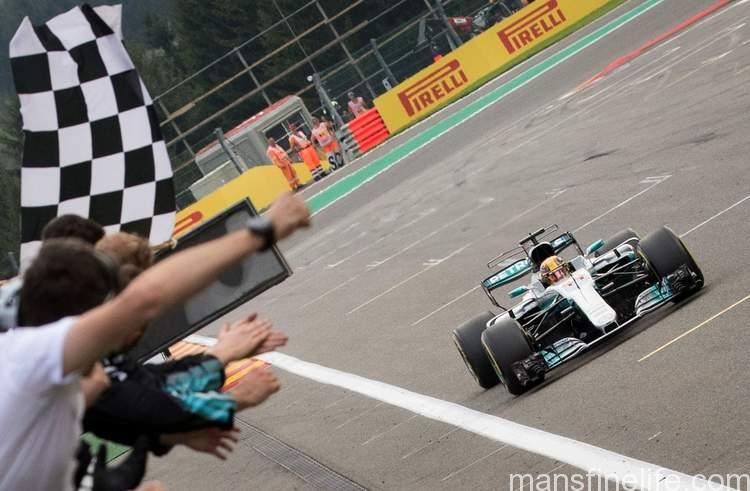 Another standout at Spa was Red Bull's Daniel Ricciardo, who once again showed why he is likely the most opportunistic F1 driver in the paddock. Despite the RB13s lack of pure pace at this very fast and long circuit the Aussie took advantage of the post-Safety Car restart on Lap 34 to jump the Mercedes of Valtteri Bottas and hold off the Ferrari of Kimi Raikkonen with a lovely, gutsy pass up the Kemmel Straight. So despite running quietly in P5 for the entirety of the first two thirds of the race Ricciardo's brave move saw him vault up into a podium spot. He made it stick and kept his pursuers behind for the rest of the race earning that ever-valuable last step on the podium with a sparkling P3 finish. That makes six podium finishes this year for Ricciardo — including that serendipitous win at Baku —  who has displayed the kind of luck in the reliability department his teammate, Max Verstappen, has sorely lacked. Verstappen's Red Bull mount once again betrayed him, this time on Lap 8 and in front of a huge throng of orange-clad fans from nearby Holland. The Dutch wunderkind has now failed to finish an astonishing 50% of the contests so far in 2017. Will he be looking for the exits and a more reliable ride for next year? Couldn't blame him if he is.
Ricciardo's ballsy pass meant Kimi Raikkonen had to settle for P4. But in truth the Iceman probably felt relieved by that result after having incurred an 10-second stop & hold penalty for failing to lift for the yellow flag brought out by Vertappen's stalled Red Bull. Continue reading →