The late, great Italian industrialist Gianni Agnelli (1921-2003), head of Fiat for decades, eventual part owner of Ferrari and longtime chairman of the Juventus soccer club, is rightly regarded as a true men's style icon. From his pioneering mix of high and low in his day-to-day fashion — work boots with a finely tailored suit, denim shirts and jeans with an ascot — to his signature wristwatch-over-the-cuff look, Agnelli was man of unique and cutting edge personal style.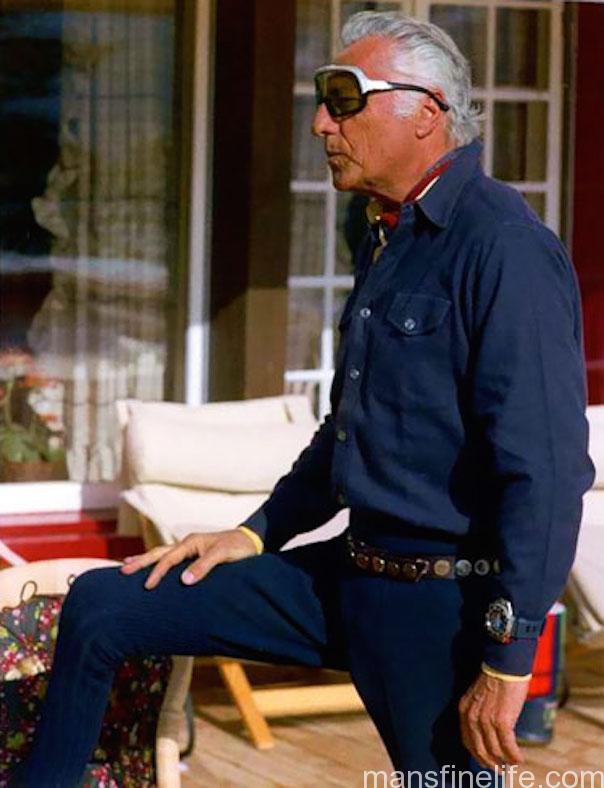 Perhaps, then, it's no surprise that Gianni Agnelli began sporting the massive Omega Ploprof diving watch during his vacations and more casual moments in the 1970s. The very avant-garde asymmetrical case design must have appealed to the industrialist in him, as well as its eye-catchingly oversized dimensions. The Ploprof was also engineered to be a true "wrist machine" and not just another wristwatch so wearing one couldn't help but make a statement, something Agnelli always like to do. A keen yachtsman, the Ploprof's bona fides as a rugged professional dive watch and a timepiece of superior water resistance must have also appealed to Agnelli's adventurous nature.
It's definitely cool that such a patrician, elegant figure could rock a beast like the PloProf and so effortlessly, as well. I never would have thunk it but then these pics don't lie. Chalk another one up to the maestro of bespoke personal fashion. He certainly anticipated our current culture's fascination with high-low attire and bold personal statements. But maybe don't try wearing your PloProf outside your shirt cuff. After all, there was only one Gianni Agnelli and no matter how much of his ingenious, seemingly effortless élan has worked its way into our current sense of fine gentlemanly style some of his signature moves remain impervious being copied. Simply put, you can borrow from Agnelli but you can't be Agnelli. So rock your Ploprof, old or new, however you see fit and make it part of your own look. You'll always know you're in very good company.