It's far too facile to call Nicholas Ray's stark 1952 classic, On Dangerous Ground, a film noir. It certainly starts out that way with hardened cop Jim Wilson, played by the incomparable Robert Ryan, violently working his way through tarts and hoodlums in his obsessive pursuit of two cop killers. But quickly we see that Wilson is no hero. His partners are finding it difficult to work with him and his superior has had to give him increasing warnings about police brutality. From the opening shots of the film we see that Wilson is utterly alone and has only the job to live for, while one of his two partners has a devoted young wife and the other more senior one already has a large family. Worse still for Wilson, he is beginning to hate his job and himself by proxy. As Wilson sneers at one point "everyone hates a cop" on both sides of the law and "garbage is all we handle." It's readily apparent that violent self-loathing is beginning to consume Ryan's masterfully curdled Jim Wilson.
But although On Dangerous Ground begins in the grimy urban shadow world typical of film noir it doesn't stay there. Having cuffed around one too many suspects Wilson is given an assignment out of town and far upstate until things cool down for the wayward detective. A young girl has been murdered in a small country town and Wilson is sent up to help the local sheriff. Suddenly the movie drives out of a crime infested, artificially lit city and up into the stark and pristine mountains, eventually arriving at a sparsely populated wintry outpost that has been the scene of a horrible crime.
There Wilson meets Walter Brent and his family, whose young daughter has been slain. Brent, played by the square-jawed and tough Ward Bond, familiar from so many John Ford Westerns alongside John Wayne, is consumed by the need for revenge and vigilante justice. He is resentful and dismissive of the big city detective when all he wants to do is find his daughter's killer and blow him away. Nonetheless, Wilson and Brent join together to pursue the suspected killer after he steals a car in town, following him even further into the mountainous wilds until they crash their car in the icy conditions. Their quarry has also crashed his car and they follow his tracks as best they can to a remote house in a barren, frozen landscape. There they meet a blind woman seemingly living alone, Mary Malden, played by the always excellent Ida Lupino. And now the source of tension changes yet again, as the detective and the bereaved father wonder if the blind woman is hiding or helping the assailant and Wilson begins to wonder if he can open his heart to this stubbornly independent yet tender and kind woman.
Once the action has left the city and moved to the rocky terrain the tenor of the film also changes. Upon repeated viewings there is a distinctive existential aspect to the manhunt and its implications, becoming almost an allegory. All of a sudden Wilson is the one upholding the law and trying to keep Brent from pursuing extra judicial action. It's almost as if Brent is the ultimate extension of Wilson's increasingly judge and jury approach to law enforcement in the city. In seeing it in another man he experiences a similar revulsion to that of his partners at his own over-the-line actions. And can the blindness of Mary Malden simply be a plot device or is there something more profound being implied there? After all, the famous statue of Justice is blindfolded and once Wilson comes into contact with this isolated blind woman his own angry defenses begin to soften and he begins to want to trust in the process of the law again over simple retribution.
It all makes for an extremely strange and intriguing police drama. Ray's sense of story is inventive and never bound by the conventions of genre. The black and white cinematography is dark to the point of cinema verite with the vast outdoor spaces seemingly even more claustrophobic than the inky, densely packed city streets of the first third of the film. The tense mood is consistently heightened by the pulsing score of the great Bernard Herrmann, Hicthcock's favorite composer. And the two stars are top notch. Ida Lupino, with her lovely eyes and husky voice, was always such a fascinating combination of tough and tender, a perfect foil for hard men, and never more so than in this brave and accomplished role. She was also a Hollywood groundbreaker as a female director at a time when that was almost unheard of and got her start in that pursuit by directing a few scenes in On Dangerous Ground when Ray was too ill to work.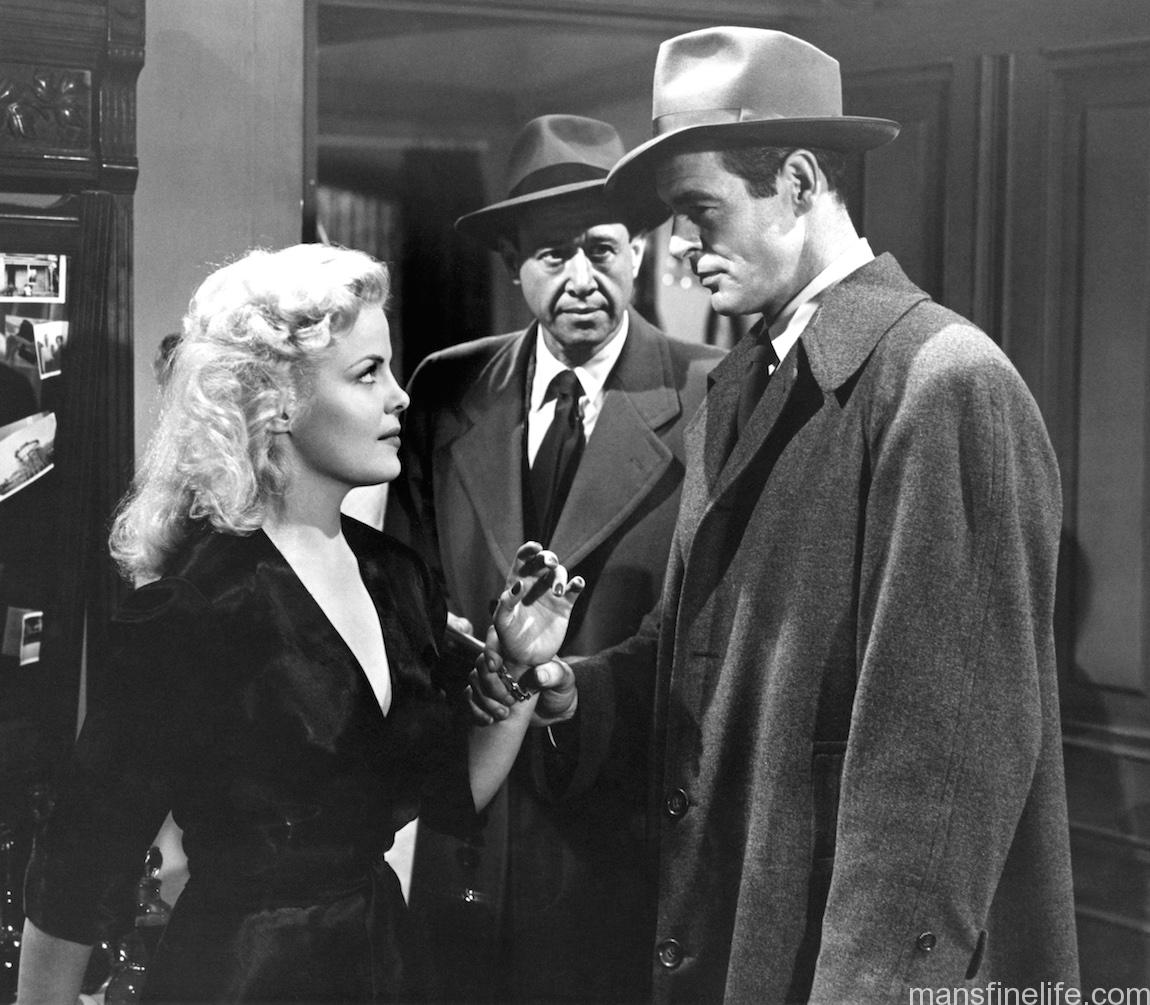 But the movie's center of gravity is Ryan's hair-trigger Jim Wilson, a man drowning in his own exposure to the darkest aspects of human behavior, in others and those within himself. Made some 20 years before Dirty Harry, the cop in On Dangerous Ground is a direct progenitor of the kind of avenging urban policeman that Clint Eastwood portrayed so well. But whereas in Eastwood's conception of Dirty Harry his vigilante violence is cathartic and necessary as a response to impotent bureaucracy in an increasingly chaotic and frightening world, for Ryan's Jim Wilson the chaos is within and so the resort to violence is self-wounding and destructive of his humanity. His exposure to someone even more out of control, even more hungry for blood in Brent the avenging father brings him back to the belief in the power of and the need for the due process of the law. Of all the classic Hollywood leading men of the 1940s and 50s Ryan was the probably the least suited to that title. He was more like an anti-matinee idol, often specializing in heavies and unreliable neurotics. But there is not really another actor like him and his ability to channel an inner darkness was rarely matched. There's just something about those jet black eyes of his that radiates menace even when he is a supposedly sympathetic character. That his Jim Wilson requires the help of a blind woman to save him from himself and that Ryan only grudgingly allows this redemption to happen makes this one of his most satisfying "heroic" roles in a career mainly distinguished by masterful portrayals of violent racists and psychopaths.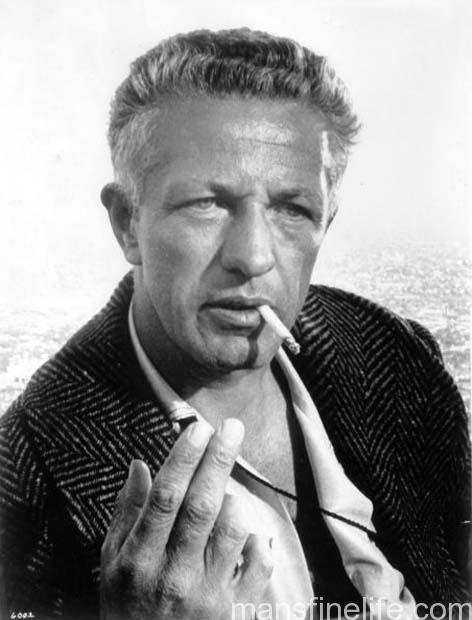 A final word on director Nick Ray, at least for now: Ray was undoubtedly one of the most interesting American directors to emerge from the post-WWII era. While trained to be a typical handler of studio projects, Ray constantly found ways of making routine material something more transcendent. Thus a movie like They Live By Night (1949) becomes a doomed romance rather than a simple crime spree movie. In A Lonely Place (1950) allows Humphrey Bogart to take his uncompromising tough guy persona to an unsavory extreme. Bigger Than Life (1956) is a seemingly typical 1950s domestic melodrama upended by James Mason's frightening steroid-induced psychosis. The brilliantly stylized Rebel Without A Cause (1955) became the signature youth rebellion film of all time due to an intuitive grasp of a coming generational revolution and the absolutely perfect casting of James Dean, Natalie Wood and Sal Mineo as the teenagers. And 55 Days At Peking (1963), Ray's last major film after being dismissed late in the production, is a period war epic that allows the often monolithic Charlton Heston moments of wounded humanity that he only rarely revealed in his other films. And there are several other great films to his credit aside from these like The Lusty Men, Bitter Victory and Johnny Guitar, all well worth seeking out.
Ray had an obvious gift with actors, getting them to delve deep and really expose themselves and also a rare understanding of interior and exterior spaces as emotional contributors and activators (not coincidentally he studied architecture with Frank Lloyd Wright in the 1930s). All of his best talents of mining hidden depths in conventional material and making the most of limited resources are on display in On Dangerous Ground, possibly the most unusual film noir in the canon. It's truly a movie of deceptive complexity and beautiful playing that rewards multiple viewings and reveals new levels of understanding each time. It's hard to think of a better compliment to Ray's unique cinematic talents than that and it's an ideal jumping off point for further exploration of one of the more idiosyncratic of the major "Golden Age" Hollywood directors.