The great American race car driver and constructor Dan Gurney passed away at the age of 86 on January 14th.
A very good Autoweek obituary is here and a fine list of Gurney's remarkable technical accomplishments has been published by Jalopnik.
A titan of motorsports and a tireless innovator for more over 60 years, Gurney survived the most dangerous era of Formula 1 in the 1950s and 60s and not only lived to tell the tale but thrived. Gurney participated in 86 Formula 1 Grand Prix and took victory four times, most significantly at the Belgian Grand Prix at Spa-Francorchamps in 1967, where he drove a car of his own design and construction, the beautiful Eagle Weslake, to become the first and still only American to win as both constructor and driver in F1. If that wasn't enough in that banner year for Gurney and the USA, he had only a week earlier triumphed in the 24 Hours of Le Mans with co-driver A.J. Foyt in a Ford GT, again becoming the first all-American team to achieve that illustrious feat at the most famous 24-hour race in the world. It was on the Le Mans podium that a delighted Gurney first sprayed champagne on his teammates and the crowd after victory, something that instantly became a permanent tradition across all forms of motorsport.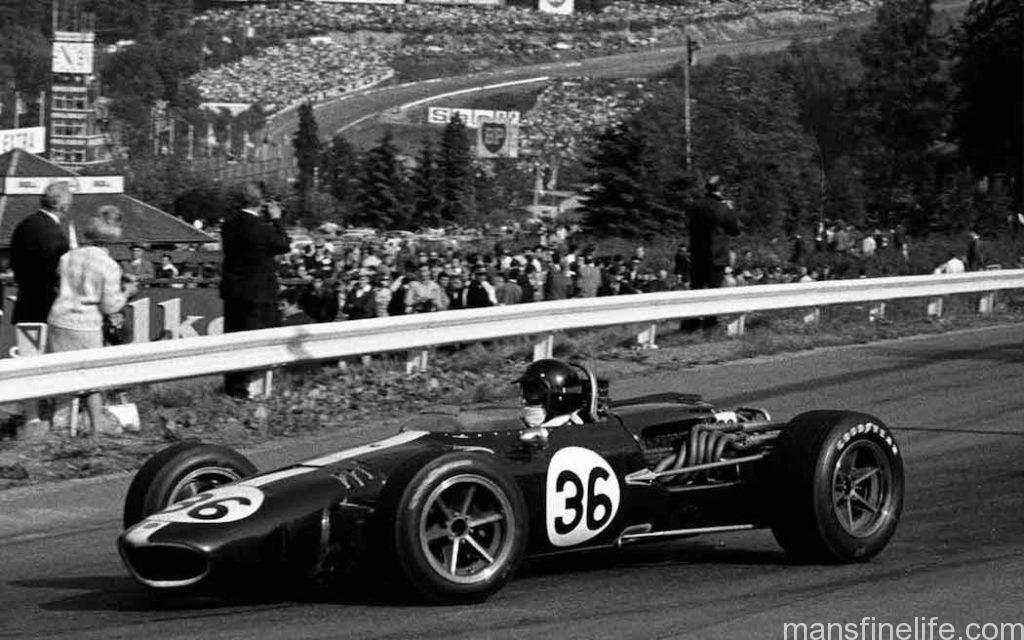 Of course the podium celebration was not the brilliant Gurney's only lasting contribution to racing. Blessed with not only movie star good looks but also an engineer's keen mind, Gurney devised several technical improvements for racers and their cars that are still used today. Unusually tall for a driver at 6′ 4," the big American became one of the first high level competitors on four wheels to adopt a full helmet and perspex face shield similar to that of those worn by dirt bike racers back in his Southern California home. He debuted the protective helmet designed by Bell at Indianapolis in 1968 and soon thereafter it became standard equipment for all drivers. In 1971 he came up with the now de rigueur Gurney Flap, a small right angle lip at the edge of the rear wing to increase rear downforce by creating vortices that enhance the airflow coming off the wing. In the early 1990s Gurney's All American Racers team came up with a radical design for their IMSA Prototype entry that featured not only a small 2.1 liter 4-cylinder turbo engine by Toyota capable of producing a whopping 750 horsepower but also a monocoque chassis made entirely of carbon fiber, a radical proposition at the time, especially in sports cars. The AAR car also featured built-in aerodynamic assists from the front air intake holes and superior ground effects beneath. The result was the Eagle Mark III, a beast of a car that won the 1992 and 1993 IMSA  drivers' and constructors' championships going away, including a streak of 17 wins in a row.

To the very end Dan Gurney was still utilizing his prodigious gifts as a designer and innovator, playing a key part in the radical Delta Wing project and even helping design and fabricate the carbon fiber landing legs for the reusable Space X rocket. But he shone brightest as a driver. In his heyday he won races in Formula 1, Indycar, NASCAR and sports cars. Only the great Mario Andretti and Juan Pablo Montoya have posted such a display of victorious versatility in all four major automobile racing categories. He survived several crashes in the unsafe cars of the 1950s and 60s, the second in a BRM at the 1960 Dutch Grand Prix that killed a spectator. It was then that Gurney remarked to legendary journalist Robert Daly that racing "is a cruel sport." And yet even with a young wife and growing family Gurney persisted. Even through the deaths of his rivals and friends on the track over his long career — Wolfgang von Trips, Swede Savage, the Rodriguez brothers, Jimmy Clark, Bruce McLaren and Jo Bonnier  — Gurney persisted and kept his foot down. He had full faith in his ability to delineate a necessary risk from a foolhardy one and when he started designing his own cars in the late 1960s he finally had full faith in his equipment, as well. A wonderful story teller, a survivor of a deadly golden era, a rarely matched driver and innovator and an all-around gentleman, Dan Gurney lived a true racer's life from his teen years as a hot rodder in Riverside trying stay one step ahead of they cops to his discovery by Ferrari's man in America, the brilliant Luigi Chinetti, to his remarkable, decades-long career full of victories to his final moments on the Earth just a few days ago. As the Spanish are fond of saying about a truly exceptional person — ¡Qué Hombre!