Vettel victorious in Brazil, Bottas P2; Raikkonen finishes third while Hamilton roars back from the rear for P4
Sebastian Vettel and Scuderia Ferrari got a measure of redemption in Brazil on Sunday after coming up short in their quest for the Drivers' and Constructors' Championships. In the penultimate race of the season Vettel made a blinding start from P2, slipping past Mercedes pole-sitter Valtteri Bottas on the inside of Turn 1 and quickly pulling out a gap. Even after a multi-car melee behind the leaders led to a first-lap Safety Car Vettel was able to re-establish his advantage after the restart and control the race from the front, showing that for this weekend at least his Prancing Horse had the legs on the Silver Arrows. It all lead to a seemingly easy victory for the German 4-time World Champion, although Vettel claimed he had to be picture perfect in the middle sector all race long to hold Bottas off. It was also a much needed morale boost for the legendary team from Maranello after their second half swoon, which was fueled equally by unforced errors by drivers and engineering and ultimately resulted in their disappointing runner-up status. The victory at Interlagos also helped solidify Vettel's number two position in the Drivers' competition with his lead over Bottas ballooning to a very nearly insurmountable 22 points.
Despite a terrific qualifying effort that snatched pole from Ferrari on Saturday, Bottas' Mercedes could not match Vettel's race pace. The Finn made one or two vague challenges but essentially lost it at the start and had to settle for a relatively disappointing if comfortable P2. Likewise Vettel's stablemate Kimi Raikkonen could never quite catch up to Bottas but drove a solid race to finish P3. Meanwhile Bottas' teammate, newly-crowned 2017 champion Lewis Hamilton, had an amazing race to finish just off the podium in P4. Starting from pit lane after he shockingly binned his Merc early in the first round of qualifying, the team was able to break parc firmé and make several changes to the Englishman's F1 W08. As well as aero tweaks Mercedes also installed a new power unit, which probably would have required grid penalties in the next race, the season finale in Abu Dhabi. Instead, despite his profound positional disadvantage, Hamilton tore through the field like a man possessed, slicing through back markers like a hot knife through butter. On an uncharacteristically sunny day in Sao Paolo with no aide from rain-induced strategy calls, Hamilton simply mustered the will to make it happen all on his own. In the end it showed once again why Lewis Hamilton is one of the all-time great F1 talents and truly deserving of his four world titles. Though Hamilton's Super Soft Pirelli tires gave up at the end after a monster stint and he could not quite overtake Raikkonen for a podium his astounding fourth place must have felt nearly like a victory.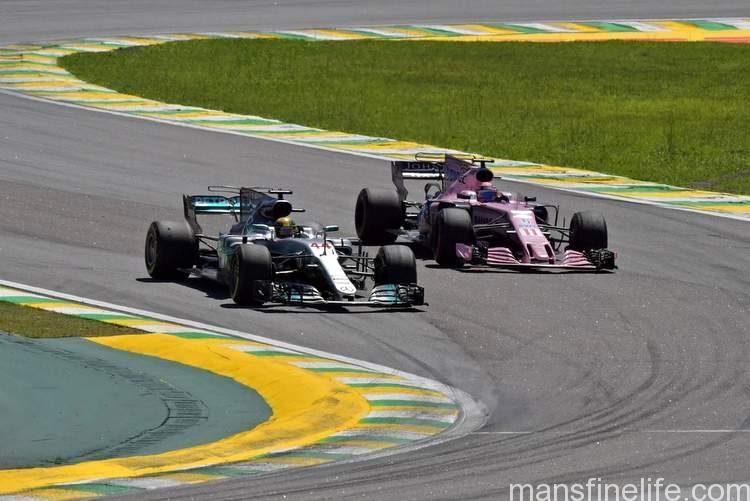 Behind the top four, Red Bull's Max Vertsappen faded somewhat after a strong start where it looked like the young Dutch phenom might make the post-race champagne celebration. But the limits of his Renault power plant seemed to show themselves over the long run as the greater horsepower of the Ferraris and Mercedes pushed them out of his grasp. Verstappen had to settle for a distant P5, while his teammate Daniel Ricciardo did well to fight back after a first-lap spin to claim P6. Williams' Felipe Massa earned an emotional P7 in his final home Grand Prix to the delight of the masses of his countrymen in the stands. The veteran Brazilian exited Sao Paolo with a clean and classy drive after tearfully crashing out during his rain-soaked false alarm last year.
Fernando Alonso continued McLaren's upward ascent with a strong P8. Although next year will be extremely intriguing and demanding for the Spaniard with his plans to run not only the 24-Hours of Daytona in January but also at least a partial campaign for Toyota in the Prototype class of the World Endurance Championship, the two-time F1 champion has got to be looking forward to the switch to Renault engines to power what is seemingly a very competitive chassis. Unfortunately for McLaren, however, their second driver Stoffel Vanfoorne crashed out on the opening lap after getting tagged by Haas' Kevin Magnussen, who also had to retire. Sergio Perez brought his Force India home to a P9 finish after his teammate Esteban Ocon had his race-finishing streak snapped via a collision with Romain Grojean of Haas, also on the opening lap. Grosjean got a 10-second penalty for the accident but was able to complete the race, albeit out of the points in P15. Renault's Nico Hulkenberg landed the last points-paying position in P10 just getting the better of his teammate Carlos Sainz, who finished P11.
Top 10 finishers of the Brazilian GP:
POS
DRIVER
CAR
LAPS
TIME/RETIRED
PTS
1
5
FERRARI
71
1:31:26.262
25
2
77
MERCEDES
71
+2.762

s

18
3
7
FERRARI
71
+4.600

s

15
4
44
MERCEDES
71
+5.468

s

12
5
33
RED BULL RACING TAG HEUER
71
+32.940

s

10
6
3
RED BULL RACING TAG HEUER
71
+48.691

s

8
7
19
WILLIAMS MERCEDES
71
+68.882

s

6
8
14
MCLAREN HONDA
71
+69.363

s

4
9
11
FORCE INDIA MERCEDES
71
+69.500

s

2
10
27
RENAULT
70
+1

lap

1
Complete race results available via Formula1.com.
The next & final race is in two weeks time, the Abu Dhabi Grand Prix at the gorgeous day-into-night Yas Marina Circuit. Hope to see you then to find out how the season ends!