Hamilton moves closer to title with dominant win in Texas as Mercedes clinch fourth straight Constructors' Championship; Vettel salvages P2, Raikkonen third after Verstappen penalized
Mercedes' ace Lewis Hamilton had a superb weekend for both himself and the team at an American track that has come to seem like a second home to the Englishman. Starting from pole at The Circuit of the Americas in Austin, Texas, the championship points leader was able to overcome a fast start by the last remaining obstacle to the pursuit of his fourth Formula 1 crown, Ferrari's Sebastian Vettel. Vettel was quicker on the opening lap and got by Hamilton with authority. For a brief moment it seemed that Ferrari could put their miserable 3-race tailspin behind them and get back on level footing with mighty Mercedes. But Hamilton's Silver Arrow proved the stronger car as the laps accumulated and the tires settled in. Hamilton closed down the German relentlessly and by getting to within DRS range was able to pass Vettel on Lap 6, taking a lead he would never really relinquish again.
Perhaps because of Ferrari having to trim downforce off the car to match Mercedes' pace at this long flowing track the Prancing Horses were not quite as good on their tires as they had been in other races. While Vettel had to stop for fresh rubber on Lap 17, Hamilton ran until Lap 20 (although one could argue this was a lap too late as he really hit the cliff by then). Hamilton was then able to run his Soft tires until the end of the race on his way to the victory, while Vettel threw the dice for a second tire change on Lap 39 of 56. It didn't pan out for the Scuderia man — he had lost too much track position. In the end Hamilton won decisively by over 10 seconds while Vettel pushed his way back to the front and then was let through by his teammate Kimi Raikkonen for P2, keeping the Drivers' Championship mathematically alive for another race weekend. Hamilton's win in the States also helped earn the Mercedes factory team their fourth Constructors' title on the trot. And to think that most people thought Hamilton was mad to jump from McLaren to Merc back in 2013. It was also Hamilton's astounding fifth win at COTA in six attempts.
Raikkonen was awarded the last step on the podium in controversial fashion after Red Bull's Max Verstappen made a stunning pass on him for P3 on the very last lap of the race. But the Dutch wunderkind who hurtled himself all the way up from a 16th place starting position after engine penalties, slicing through the field like a hot knife along the way, was deemed by the stewards to have exceeded track limits in gaining the advantage on Kimi. He was hit with a 5-second time penalty while waiting in the podium green room and had to give way to Raikkonen in shocking fashion. The 20-year-old phenom was justifiably livid at the decision in a race where track limits seemed to have been abused all day long with no similar consequences. In the end, though, the now fourth place Vertsappen could only take satisfaction in adding to his growing resume of superb overtaking drives, as well as signing a new multi-year contract with Red Bull, a smart move by the team in locking up such a prodigious if still maturing talent. Adding to the mixed feeling for Red Bull after the US Grand Prix their other driver, Daniel Ricciardo, suffered engine failure on Lap 16. It was a major disappointment for the Aussie after a roaring start from P4 on the grid and some hot and heavy wheel-to-wheel action with Mercedes' Valtteri Bottas.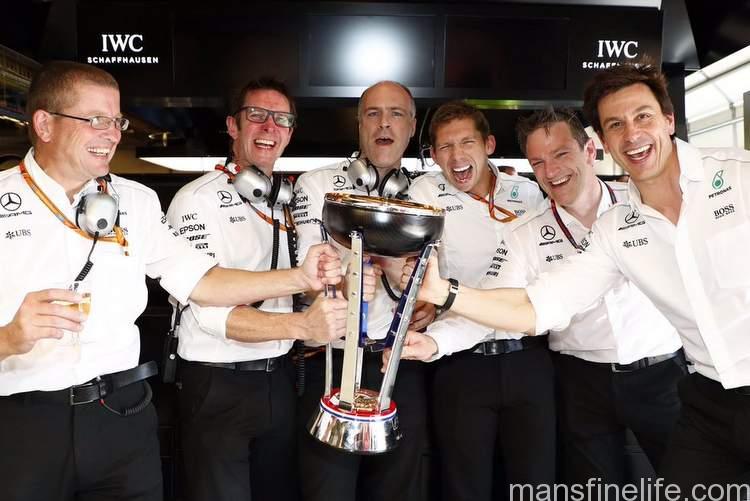 Bottas lost ground late and finished P5 but it was still enough of a points haul to put Mercedes over the top for the title. Force India's Esteban Ocon drove well despite battling the flu and finished P6, while his teammate and jousting partner Sergio Perez came home P8. That consolidated the team's fourth place in the Constructors' title, a remarkable result for the little Force India team. Carlos Sainz was extremely impressive in his maiden run for the factory Renault team, driving superbly to a P7 finish. Felipe Massa took P9 for underachieving Wiliams and Sainz's old teammate Daniil Kvyat was P10 in his return to his Toro Rosso seat after a two-race enforced absence by the team.
Top 10 finishers of the US Grand Prix:
POS
DRIVER
CAR
LAPS
TIME/RETIRED
PTS
1
44
MERCEDES
56
1:33:50.991
25
2
5
FERRARI
56
+10.143

s

18
3
7
FERRARI
56
+15.779

s

15
4
33
RED BULL RACING TAG HEUER
56
+16.768

s

12
5
77
MERCEDES
56
+34.967

s

10
6
31
FORCE INDIA MERCEDES
56
+90.980

s

8
7
55
RENAULT
56
+92.944

s

6
8
11
FORCE INDIA MERCEDES
55
+1

lap

4
9
19
WILLIAMS MERCEDES
55
+1

lap

2
10
26
TORO ROSSO
55
+1

lap

1
Complete race results available via Formula1.com.
The next race is in but a week's time, just south of the border from Autódromo Hermanos Rodríguez in Mexico City. Can Sebastian Vettel prolong the inevitable or will Lewis Hamilton join the German in the elite 4-time F1 Champions' club? Hope to see you then to find out!