Hamilton dominates Monza for Mercedes, takes Championship lead; Bottas chips in with strong P2, Vettel settles for P3 for Ferrari in front of tifosi
On a race day that was the exact opposite of Saturday's water logged qualifying, Mercedes' Lewis Hamilton nonetheless vaulted from his wet weather record setting pole position to dominate the Italian Grand Prix at legendary Monza. No one could touch the English championship aspirant as he used his all-time best 89th pole position to run away from a scrambled grid and claim a relatively easy win on this ultra-high speed circuit. Better yet, Hamilton's Silver Arrows teammate Valtteri Bottas redeemed himself after a poor qualifying effort saw him start from a lowly P6. But with the sun shining the Finn was ready for the fight willing his way past not only both Ferraris but also the other unlikely upstart drivers blocking his path. If Bottas was never as dominant as Hamilton he proved second fastest in Monza by a wide margin coming home an ever-valuable P2 for Mercedes, which put serious distance between themselves & Ferrari in the Constructors' Championship by dint of their barely contested 1-2 finish.
Ferrari's de facto home track proved less than suitable to this year's iteration of Prancing Horses. After being bested in that epically wet quali by not only both Red Bulls but also midfield runners from Williams and Force India the Scuderia had to be very grateful for the demotion of those rivalrous Red Bulls due to engine component change penalties. Sure enough their lead ace, Sebastian Vettel, was able to overcome his now P6 starting position to jump his teammate Kimi Raikkonen and then go full tilt at the upstarts in front of him, Lance Stroll of Williams and Esteban Ocon of Force India. Vettel got them both in due time and settled into P3 after it became clear he had nothing for the two Mercedes men running well ahead of him. He maintained that position to the end for the last step on the podium, giving the tifosi at least some reason to be happy on a day when the German Silver Arrows marched into Italy and spoiled the planned Ferrari festivities. But with Hamilton's recent run of victories — he's the first diver to win back-to-back races in this very competitive season and has now won three out of the last four — Vettel now finds himself pushed out of the top spot in the Drivers' Championship standings. The German 4-time champ now trails his English rival by 3 points, the first time Vettel hasn't been at least tied for the lead all year.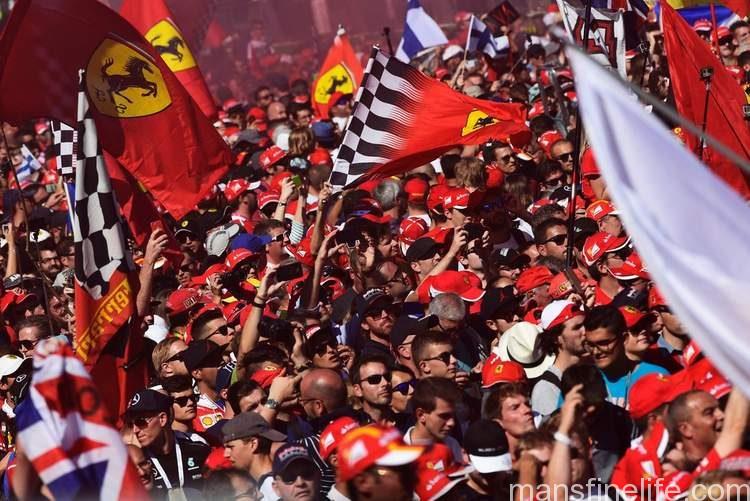 Vettel's teammate Kimi Raikkonen struggled with rear grip early in then race, was never a podium factor and could do no better than P5. Splitting the two Prancing Horses was Daniel Ricciardo who drove his Red Bull to a remarkable 4th place finish after starting way back in P16 due to a raft of engine component penalties. The affable Aussie put on a clinic of overtaking including a power move into the Turn 1 chicane on Raikkonen that sealed the Iceman's fate as an also-ran. Ricciardo's precocious teammate Max Vertstappen looked to be matching his teammate in moving to the front but continued his star crossed ways this season when he negated his terrific start by coming into contact with Williams' Felipe Massa, leading to a puncture. By the time the Dutch wunderkind limped back to the pits for service he was dead last. But to his credit Verstappen didn't give up on the race despite yet another 2017 misfortune. His car stayed spry and young Max doggedly worked his way up through the back markers, picking them off one by one. As the laps wound down he was so determined to score points he shoved Haas' Kevin Magnussen off the road to grab P10 and the last points paying position, showing once again the ruthlessness and talent that may one day bring him a title. If he can ever find some good luck again.
Esteban Ocon of Force Indiia and Lance Stroll of Williams, the two rookies who started P3 and P2 on the grid respectively after their impressive wet weather qualifying, couldn't quite maintain their lofty positions in the dry race. Nonetheless they both performed admirably and came home safely and with a raft of valuable points for their teams. Ocon was slightly superior and passed Stroll, making the most of being away from his pesky teammate Sergio Perez to come home a very solid P6. And though Stroll could never find a way by Ocon again the young Canadian was able to hold off his veteran teammate Felipe Massa and take P7 at the checkered flag. The hard charging Massa ended up P8 and Perez was right behind in P9. So very good day for Force India and an even better one for previously struggling Williams who were able to find mystery pace not only for the flukey wet qualifying but also in the dry race, securing a much-needed cache of points.
Top 10 finishers of the Italian Grand Prix:
POS
DRIVER
CAR
LAPS
TIME/RETIRED
PTS
1
44
MERCEDES
53
1:15:32.312
25
2
77
MERCEDES
53
+4.471

s

18
3
5
FERRARI
53
+36.317

s

15
4
3
RED BULL RACING TAG HEUER
53
+40.335

s

12
5
7
FERRARI
53
+60.082

s

10
6
31
FORCE INDIA MERCEDES
53
+71.528

s

8
7
18
WILLIAMS MERCEDES
53
+74.156

s

6
8
19
WILLIAMS MERCEDES
53
+74.834

s

4
9
11
FORCE INDIA MERCEDES
53
+75.276

s

2
10
33
RED BULL RACING TAG HEUER
52
+1

lap

1
Complete race results available via Formula1.com.
The next race is in two weeks time, the beautifully incandescent night race on the tight & twisty streets of Singapore. With a lower speed course much better suited to Ferrari than Mercedes and Vettel desperate to regain his championship lead over Hamilton with the races dwindling it should be a pleasingly frought — and hard-fought — affair between two ultra-competitive athletes. Hope to see you then to find out how it all shakes out!