Ferrari rules the 'Ring — Vettel wins from pole, Raikkonen second; Bottas P3 & Hamilton P4 for Mercedes
Ferrari dominated the last race weekend before the long summer break joyfully watching their ace, Sebastian Vettel, manage niggling problems on his car to somehow stay out in front and win the Hungarian Grand Prix from the pole. In a race that was more fascinating from a pit-wall strategy perspective than for actual on-track action, Vettel was able to maintain enough pace to forestall Ferrari team orders that might have forced him to hand the lead over to his teammate Kimi Raikkonen when it seemed like Vettel might not have the speed. But to their credit Ferrari never made that call and despite some sort of steering woes plaguing the 4-time Champion's chassis, Vettel rewarded the Scuderia's confidence and gamely guided his SF70H home to earn the top step of the podium. Despite his fears of being overtaken if he wasn't let by Vettel Raikkonen was easily able to hold off the best efforts of Mercedes driver Lewis Hamilton to take P2. And in the end Hamilton did the gentlemanly thing and ceded his third place position back to his Silver Arrows teammate, Valtteri Bottas, who had let the Englishman through earlier in the race to try to hunt down the Prancing Horses when Mercedes did play the team orders card. Hamilton could never manage to catch them despite some nervous moments for Maranello and, coming up short on the last lap, honorably re-payed Bottas by allowing him to finish P3 as the checkered flag flew and slipping back to come home P4. The strong 1-2 result for Ferrari meant that the team closed the deficit to Mercedes to just 39 points in the hunt for the all-important Constructors' Title. Meanwhile, Vettel also increased his lead over Hamilton 202-188 in the Drivers' Championship after they had been separated by a single point coming into the weekend. Looking back at their near-perfecr weekend at the tight and twisty Hangaroring Ferrari will be well pleased with the trajectory of their season-long performance improvements going into the break, while Mercedes will know they've got work to do to close the gap on other similarly short, tight circuits like upcoming Singapore and Brazil.
Red Bull's Max Verstappen had a very eventful race on his way home to a solid P5 finish. That good result was somewhat tarnished when he and his senior teammate Daniel Ricciardo came together on the opening lap when Vertsappen locked up into Turn 2 while Ricciardo was on the outside of him. Verstappen's right front wheel clouted Ricciardo's radiator pod dealing the Aussie's car terminal damage in the process and causing a multi-lap Safety Car period. The race stewards deemed Verstappen at fault and handed down a 10-second time penalty but the Dutch wunderkind stayed out extraordinarily long on his starting set of Pirelli Supersoft tires and only pitted for fresh rubber on Lap 42, far later than the other contenders. So even with the 10-second penalty he managed to come out just behind the Merc of Bottas. Despite looking very dangerous on fresher Soft tires, Bottas pushed hard and Vertsappen could never make it past the Finn on a track where passing is at a premium. It was another excellent drive by Verstappen and one has to wonder what might have been without the Ricciardo incident. For certain the team will be talking to their talented young charge about the risk-reward benefit of first lap heroics. Whether Ricciardo and Verstappen will be talking much any more is another story.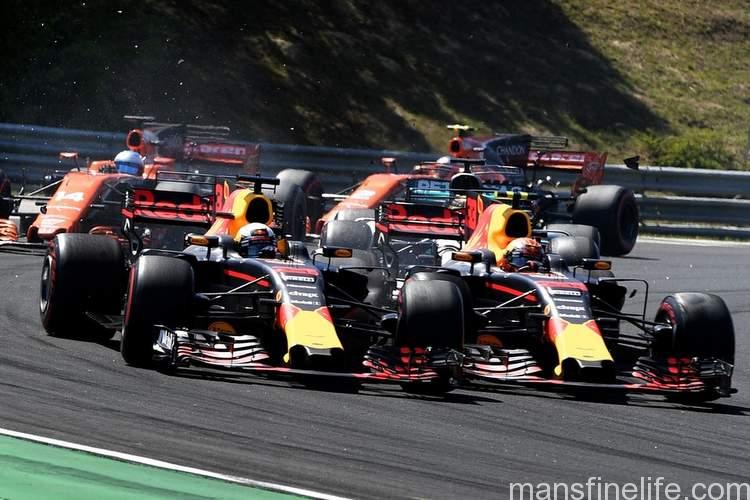 Further back in the field McLaren had their best day of 2017. Veteran Fernando Alonso, who turned 36 on Saturday, drove aggressively all race long, dicing and scrapping with a car finally fast and reliable enough to compete with the other mid-pack runners. Alonso charged home to a P6 finish, which must have felt like a victory to the team and especially Honda, their beleaguered engine supplier. Alonso's stablemate Stoffel Vandoorne took the last points paying position with a solid P10 marking the first time this year both McLarens finished in the points. Toro Rosso's Carlos Sainz also gave maximum effort on his way to an impressive P7 finish. And the Force Indias of Sergio Perez and Esteban Ocon overcame a lackluster qualifying effort to come home P8 and P9 respectively, another terrific points haul for one of F1's smallest teams.
Top 10 finishers of the Hungarian GP:
POS
DRIVER
CAR
LAPS
TIME/RETIRED
PTS
1
5
FERRARI
70
1:39:46.713
25
2
7
FERRARI
70
+0.908

s

18
3
77
MERCEDES
70
+12.462

s

15
4
44
MERCEDES
70
+12.885

s

12
5
33
RED BULL RACING TAG HEUER
70
+13.276

s

10
6
14
MCLAREN HONDA
70
+71.223

s

8
7
55
TORO ROSSO
69
+1

lap

6
8
11
FORCE INDIA MERCEDES
69
+1

lap

4
9
31
FORCE INDIA MERCEDES
69
+1

lap

2
10
2
MCLAREN HONDA
69
+1

lap

1
Complete race results available via Formula1.com.
The traditional F1 summer break is now upon us and the next race is a full four weekends away. Hope to see you at the legendary Spa-Francorchamps Circuit in Belgium to kick off the home stretch at the end of August!