Red Bull's Ricciardo capitalizes on chaos for Baku victory as Hamilton and Vettel clash; Mercedes' Bottas fights back for gritty P2, Williams' rookie Stroll scores maiden podium
Sunday's Azrbaijan Grand Prix on the tight and windy Baku City Circuit was everything last year's first-ever running was not: exciting, chaotic and unpredictable. In a race disrupted by several long and eventful Safety Car periods and one Red Flag timeout for debris on track, as well as a host of retirements and disabled vehicles, the preferred script of pole-sitter and Mercedes ace Lewis Hamilton vs the pursuing Ferrari of Sebastian Vettel did not play out according to plan. Not even close. Instead, what had been a largely respectful rivalry turned sour when, during the second Safety Car period, Vettel ran into the back of Hamilton as the Englishman slowed his Silver Arrow coming out of Turn 16. The surprised German then pulled beside him to make his displeasure known. In a stunning turn of events the Ferrari bashed into the side of the Mercedes. Whether the 4-time World Champion made the move deliberately or merely lost control while yelling at Hamilton we may never know. But in the end intent was not important, as Vettel's reckless move both lost him respect from Hamilton and also earned the German a 10-second stop & hold penalty.
The penalty was late in coming, however, and was only issued after a lengthy Red Flag period necessitated by a crash between Force India teammates Esteban Ocon and Sergio Perez and the unacceptable accumulation of debris on the track. And there were many who felt that Vettel got off lightly, Hamilton chief amongst them. Nevertheless, he must have been thinking that victory was all but certain when the race restarted and his Merc ran free and clear in first position. But Hamilton soon faced a crushing disappointment of his own when it became apparent that his headrest was not properly re-installed during the Red Flag period and kept popping up, a somewhat inexcusable lapse by the team. Despite his best efforts to secure it while driving 200mph down the straights Hamilton was forced to pit for repairs for that unforced error on Lap 31, an ill-timed extra stop. Hamilton emerged P8 and when Vettel finally took his penalty on Lap 33 his Ferrari still managed to come out ahead of the circulating Mercedes. So despite being the aggrieved party, Hamilton got no revenge on Vettel in this race and was never able to pass him. Vettel finished P4 despite his transgression with Hamilton P5 and the Englishman now trails his newly bitter rival by 14 points. More than that, the seemingly friendly competition is over between the two — it will now be war between Vettel and Hamilton in the fight for the title.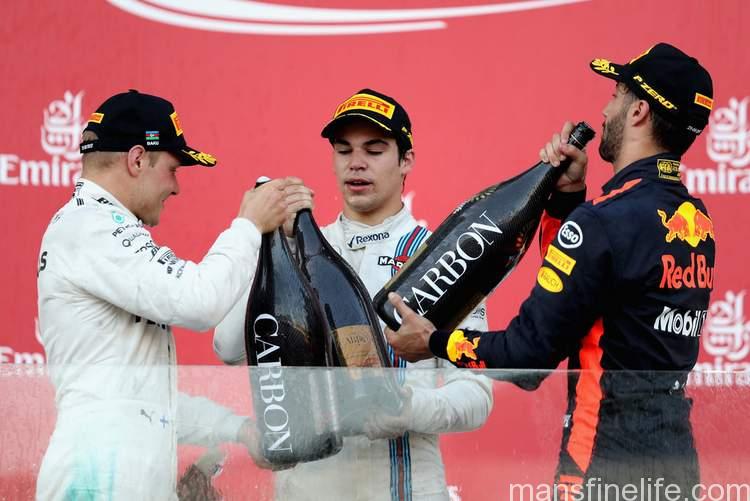 There were many beneficiaries of the contretemps between the two championship aspirants but the biggest and happiest was Daniel Ricciardo. Despite pitting early to clean the break ducts on his Red Bull, Ricciardo was able to work himself back up to a competitive position via the Safety Car periods and attrition in the field, including his unlucky teammate Max Verstappen, who dropped out with engine failure on Lap 13. When the third and final Safety Car period ended on Lap 24 the affable Aussie was all the way back up to P5 and was ready to pounce. And pounce he did, picking off two Williams with one late-breaking power move. That left only Hamilton and Vettel ahead and when they each suffered their respective race-altering issues, Ricciardo inherited the race lead. He never looked back and no one else ever got a sniff as he piloted his Red Bull to his fifth GP win and first since Malaysia in Round 16 of last season. It was also the fourth podium in a row for the surging Ricciardo, much to the chagrin of his podium mates who are more often than not are forced to drink champagne out of his hot, race-worn shoe in a bizarre but endearing ritual.
Hamilton's Mercedes teammate, Valtteri Bottas, also benefitted from the chaos, clawing his way back from a first lap coming together with fellow Finn and Ferrari driver Kimi Raikkonen that cut down his left front tire and forced him to limp around to the pits and rejoin a lap down after a tire service and a front wing change (Raikonnen would eventually be forced to retire on Lap 47 due to the accrued damage after his team tried valiantly to keep his car in the race). Again, though, the host of Safety Cars worked to Bottas' advantage, as did the misfortune of his teammate and rivals, and Bottas was not only able to unlap himself but drove steadily up through the field with good pace. As the laps ran down, he had worked his way all the way back up to P3 and was hunting the last surviving Williams of Lance Stroll. Bottas never stopped pushing and slipstreamed Stroll, surging past him right at the line for a hard fought P2. It was an excellent drive for the Finn and a definite bright spot on a rather mixed day for Mercedes.
While Stroll would have loved to have taken P2 he was nonetheless thrilled with his first career F1 podium, which was also Team Williams' first of the season. The 18-year-old Canadian rookie became the second youngest driver to podium behind Max Verstappen. After scoring his first points in his home Grand Prix two weeks ago Stroll seemed to find his footing and put the rough start to his year behind him. Certainly the field was scrambled in Azerbaijan but Stroll was genuinely fast all weekend on this demanding circuit, out-qualifiying his veteran teammate Felipe Massa P8 to P9. And when the opportunities presented themselves in the race he didn't miss them, driving flawlessly and avoiding contact with walls and other cars. He kept it throughly tight and clean and in the end the young Canadian was rewarded with a P3, a very significant achievement at the beginning of his F1 career.
The lone surviving Force India of Esteban Ocon took P6 despite damage incurred while dicing with his teammate Sergio Perez coming out of the second Safety Car period (their accident caused that eventful Red Flag). It was the second race in row where the two drivers were at loggerheads after Perez balked Ocon's progress in Montreal, denying the young Frenchman a potential podium. That ill will is sure to continue, as the collision eventually led to Perez's retirement and pushed Ocon down the order. Force India were left to wonder what might have been when they could have been the biggest beneficiaries of all the chaos and looked at one point like putting both cars on the podium. The team has got to get control of their two talented and strong-willed drivers lest they continue to let massively valuable points slip through their fingers due to lack of team discipline.
Rounding out the Top 10, Kevin Magnussen drove an excellent race and came home P7 in his Haas, Carlos Sainz recovered from an early spin to bring his Toro Roso home safely in P8 and Fernando Alonso scored McLaren's first points of the season with a decent P9 despite his Honda engine still being down on pure power. And both McLarens finally ran a full race distance! Pascal Wehrlein took P10 for struggling Sauber, only the team's second points-scoring finish in 8 rounds this year.
Top 10 finishers of the Azerbaijan GP:
POS
DRIVER
CAR
LAPS
TIME/RETIRED
PTS
1
3
RED BULL RACING TAG HEUER
51
2:03:55.573
25
2
77
MERCEDES
51
+3.904

s

18
3
18
WILLIAMS MERCEDES
51
+4.009

s

15
4
5
FERRARI
51
+5.976

s

12
5
44
MERCEDES
51
+6.188

s

10
6
31
FORCE INDIA MERCEDES
51
+30.298

s

8
7
20
HAAS FERRARI
51
+41.753

s

6
8
55
TORO ROSSO
51
+49.400

s

4
9
14
MCLAREN HONDA
51
+59.551

s

2
10
94
SAUBER FERRARI
51
+89.093

s

1
Complete race results available via Formula1.com.
The next race is in two weeks time from the Red Bull Ring in Spielberg, Austria. With tempers getting as hot as the summer weather and respect between Vettel and Hamilton, not mention Bottas and Raikonnen, evaporating like the early morning dew it should be a hammer and tongs showdown between Ferrari and Mercedes. Hope to see you then!