Mercedes' Hamilton returns to form with dominant win in Montreal, teammate Bottas P2; Ricciardo takes P3 for Red Bull, Vettel a valiant P4 for Ferrari
The Canadian Grand Prix nearly always seems to be the tonic Lewis Hamilton needs to get back to his winning ways. And two weeks after his disappointing 7th place finish in Monaco the Mercedes ace dominated this race yet again, running away from the field after a terrific start from the pole. Leaving all pursuers in his wake at the place where he won his very first F1 race in 2007, Hamilton romped to his remarkable sixth career victory at the beautiful parkland course on the Ille Notre Dame in Montreal. There are some tracks that simply suit certain drivers and Hamilton has repeatedly proven that Circuit Gilles-Villeneuve is his personal playground. With his teammate Valtteri Bottas finishing a distant second place some 20 seconds behind it was an all round excellent day for the Mercedes factory team but an even better one for Hamilton and his championship aspirations.
Not only was Hamilton dominant but the expected dual with his nemesis, Ferrari's Sebastian Vettel, never materialized. While the German points leader started from P2 on the grid and looked for all the world like he had the pace to battle Hamilton for the win he got away slowly and was tagged at the very first turn by the overtaking Red Bull of Max Verstappen. That clout damaged his Ferrari's front wing. But when a safety car was deployed on that opening lap due to the spinning Toro Rosso of Carlos Sainz collecting the Williams of an unlucky Felipe Massa neither Vettel or the team noticed the damage. By the time they did and called Vettel into the pits for a wing change the safety car period was over and cars were back circulating at race pace. That cost Vettel a ton of track position and when he rejoined he was back at the tail of the field in P18. Nevertheless, with some patient but forceful driving and clever pit strategy to switch to two stops for tires instead of only one, Vettel worked his Prancing Horse back through the field and into contention for a potential podium. While that huge task eluded him he was able to overtake the dicing Force India's of Sergio Perez and Esteban Ocon due to his relatively fresh Ultra Soft tires, locking up a valuable P4 at the checkered flag. So though Hamilton trimmed the points lead back down to just 12 with his win it was still a good day of damage control for Vettel. However, with the Mercedes one-two Ferrari lost their lead in the Constructors' battle and now find themselves 8 points behind the Silver Arrows.
The Scuderia was not helped by Kimi Raikkonen's subpar performance. After also getting away slowly at the start and losing positions from his P4 grid spot, Raikkonen's attempt to battle back into contention was thwarted late in the race by incurable break issues that forced the Iceman to back off on his pace. Running in conservation mode Raikkonen could do no better than P7. Ferrari's misfortune was Daniel Ricciardo's opportunity, as the senior Red Bull driver took advantage of a good start to ward off all comers and secure P3, his second consecutive podium. But all was not well for Red Bull because Ricciardo's teammate Max Verstappen did not complete the race. Despite a lightning getaway and surviving the early contact with Vettel, the Dutch wunderkind's troubled 2017 season continued when his car lost a battery on Lap 11 and he was forced to retire. Versttappen has now retired in three out of seven races to start the year and has only one podium so far, a P3 in China. With Red Bull's woes and third-best status in the paddock it is distinctly possible that the talented youngster will be looking to jump to a team with greater reliability and performance next year so he can fulfill what everybody believes is his championship potential.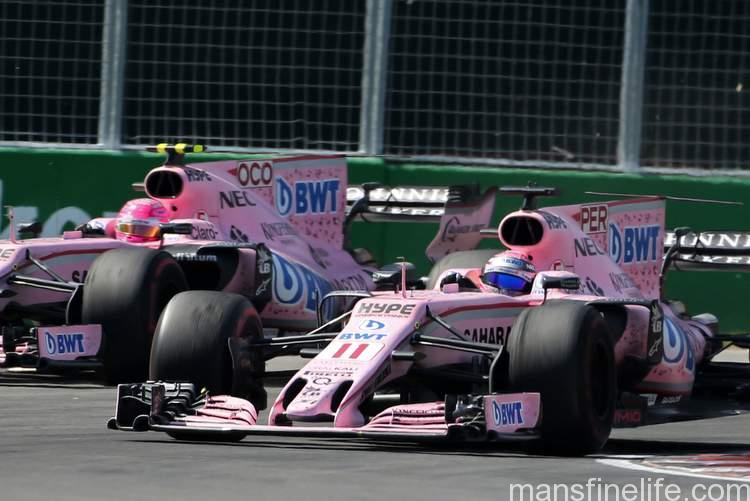 What should have been a banner day for overachieving Force India was marred somewhat by internal team dissension. While Sergio Perez finished P5 and Esteban Ocon came home P6, an extremely valuable trove of points for the little squad, it seemed that for want of a little more cooperation between their drivers they could have done even better. With Ocon running faster times on fresher rubber due to pitting after Perez the young Frenchman had the pace and potential to take the fight to Ricciardo and perhaps onto the podium. Perez refused to yield his position pleading with his team to let him be the one to attack Ricciardo. But lap after lap Perez failed to get by Ricciardo while Ocon was stuck behind Perez as his tire advantage dissipated. And that enabled Vettel to pip both of them for P4 in the final laps. So while in other races Force India would be giddy with a 5-6 finish, in Canada it felt a bit like they had left points on the table.  It also remains to be seen how the two previously friendly teammates deal with Perez's stubbornness. Ocon was certainly disappointed at not having the chance to fight for a podium during the narrow window when he had the pace in his tires to do so.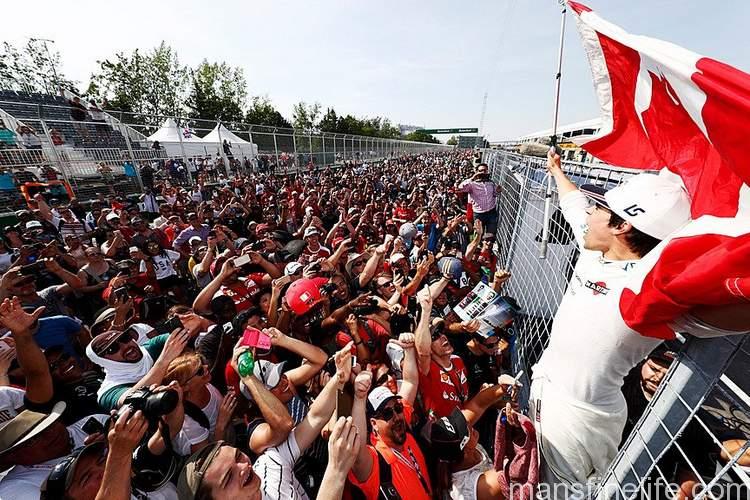 Nico Hulkenberg had another solid run for the Renault factory team finishing in P8. And after his teammate Massa crashed out on the opening lap, young Canadian Lance Stroll flew the flag for Team Williams in his home Grand Prix scoring his first F1 points in his seventh career race with a well driven P9. After a poor start to his F1 career the 18-year-old sorely needed a good result and scoring points in front of his ecstatic countrymen should give Stroll the confidence boost all drivers require to succeed. Finally, Haas' Romain Grosjean managed to survive the Sainz-induced opening lap shunt and, despite an early pit stop for repairs, managed to grab the last points paying position in P10.
Top 10 finishers at the Canadian GP:
POS
DRIVER
CAR
LAPS
TIME/RETIRED
PTS
1
44
MERCEDES
70
1:33:05.154
25
2
77
MERCEDES
70
+19.783

s

18
3
3
RED BULL RACING TAG HEUER
70
+35.297

s

15
4
5
FERRARI
70
+35.907

s

12
5
11
FORCE INDIA MERCEDES
70
+40.476

s

10
6
31
FORCE INDIA MERCEDES
70
+40.716

s

8
7
7
FERRARI
70
+58.632

s

6
8
27
RENAULT
70
+60.374

s

4
9
18
WILLIAMS MERCEDES
69
+1

lap

2
10
8
HAAS FERRARI
69
+1

lap

1
Complete race results available via Formula1.com.
The next race is in two weeks time with the second running of the cool Baku City Circuit in Azerbaijan. With the fight between Vettel and Hamilton and Mercedes and Ferrari tight as a tick every race takes on major significance, so best not to miss any of them. Hope to see you then!