Ferrari & Vettel victorious in Monte Carlo, Raikonnen ; Red Bull's Daniel Ricciardo P3 to keep Mercedes off the podium
Ferrari's Sebastian Vettel jumped his pole-sitting teammate Kimi Raikkonen for the victory on Sunday at the legendary Monte Carlo street circuit for the team's first Monaco GP win since 2001. While suspicious minds contemplated possible secret Scuderia team orders, Vettel was the faster driver and was able to extend the life of his preferred Ultrasoft Pirelli rubber, banking 6 valuable fast laps and pulling out a lead  greater than the pit stop delta after Raikonnen had already pitted. Vettel therefore emerged in front of Raikkonen on pit out on Lap 40 and with passing at such a premium in the tight street circuit and the bit between the 4-time World Champ's teeth the victory was formality. In the end and, as has been the case throughout this season, Vettel simply outperformed Raikkonen, who still finished a solid if disappointing for him P2. For Ferrari, it was a fantastic points scoring day made even better by the fact that their main rivals for the Constructors' Title, mighty Mercedes, were kept off the podium. The Prancing Horse had been stymied at the principality since the legendary Michael Schumacher's win in 2001, and it was also the team's first 1-2 here since 1999 when Schumacher also won and his teammate Rubens Barrichelo was P2. On a more somber note, the 2017 Monaco GP also marked 50 years since the death of the well-liked Ferrari driver Lorenzo Bandini in a fiery crash in 1967 at the very same race.
Mercedes' had issues all weekend long and were doomed by an uncharacteristically poor qualifying effort from Lewis Hamilton that saw the British contender forced to start from way back in P13. His Silver Arrows teammate Valtteri Bottas qualified P3 but faltered to lose a position in the race and came home P4. And while Hamilton battled back all day long, running a very long stint on his first set of tires and eventually working his way up to a hard-earned P7 finish, both the team and drivers took serious points hits. Meredes now trails Ferrari by 17 points in the Constructors', while Hamilton saw his deficit to Vettel balloon to 25 points. Bottas still leads his countryman Raikkonen for third but now only by 8 points. While all their woes could have come down to the long wheel base of their F1 W08 chassis' particular unsuitability to the low speed twists and turns of Monte Carlo, Mercedes' inability to stick closer to Ferrari in this one race could come back to haunt them at season's end. It must also be of concern to Toto Wolff, Niki Lauda and the rest of the Merc brain trust how their car will perform down the road at a track like Singapore, a place where they have often struggled even when more dominant than they are now and where rotation of the car in tight turns is nearly as paramount as at Monaco.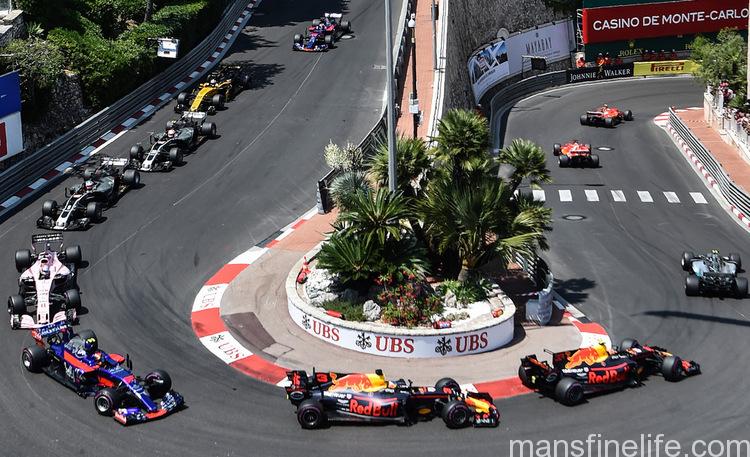 Red Bull's Daniel Ricciardo capitalized on Mercedes' woes and drove a superb race to pip Bottas for the last step on the podium. A year after his team blew what seemed a sure win for the affable Aussie, Red Bull made amends to Ricciardo by running him longer his first set of tires, the preferred Ultrasfofts. And much like Vettel, that enabled him to jump his higher qualifying and earlier pitting teammate Max Verstappen when the time finally came for his pit stop. Continue reading →