Rosberg claims 2016 Divers' Championship despite Hamilton victory & tactics in Abu Dhabi; Vettel a noble P3 for Ferrari
It all came down to the final race of the season to decide who would emerge victorious in the fierce internecine battle between Mercedes' teammates Lewis Hamilton and Nico Rosberg for the 2016 Formula 1 Driver's Championship. Going blow for blow over the course of 21 grueling rounds around the globe, Hamilton sought desperately to come from behind, ring up his 3rd consecutive title and once again prove himself top dog at the Mercedes factory team. But despite starting from pole and leading nearly the entirety of the race en route to victory at the tricky Yas Marina circuit in Abu Dhabi, and despite slow rolling to try to push Rosberg back into the clutches of other competitors, Rosberg maintained his poise and managed to come home P2 to earn his first-ever World Championship on overall points. Rosberg rode a dynamite start to his year that saw him reel off 6 straight victories and the supreme reliability of his nonpareil Mercedes chassis to join his father Keke as father-and-son F1 Champions. The great Graham and Damon Hill are the only other duo to earn that rare familial distinction. It was a well-earned payoff to Rosberg's elusive championship dreams and it must have been extremely satisfying coming at the expense of his ultra-competitive and ruthless archrival after being a heartbroken runner-up to Hamilton the two previous years.
For Hamilton, the disappointment must have been equally strong. Seeking to join Alain Prost & Sebastian Vettel as members of the 4-time F1 Champions club, the tenacious and talented Englishman did all he could to close out the season with another crown, winning the last four races on the trot. In fact, Hamilton won 10 Grand Prix overall to Rosberg's 9. But Hamilton also suffered from occasional reliability problems and mystifying poor starts and in the end those few points left on the table doomed him, as Rosberg's consistency edged him out by a slim 385-380 margin. Hamilton's final gambit was to cold-bloodedly try to back Rosberg into the clutches of Ferrari's Vettel and Red Bull's Max Verstappen by running just a bit slowly as the laps wound down, defying explicit team orders to pick up the pace in the process. In that Machiavellian way he hoped to force Rosberg off the podium and seize the title. It didn't happen as Rosberg had enough pace left in his tires to hold off those other stalwart competitors and come home a hard-fought P2. With that high finish he ascended to the pinnacle of F1 for the first time despite Hamilton's race win and finally got the better of his more decorated foe in the ultimate season-long contest for the first time as Mercedes teammates.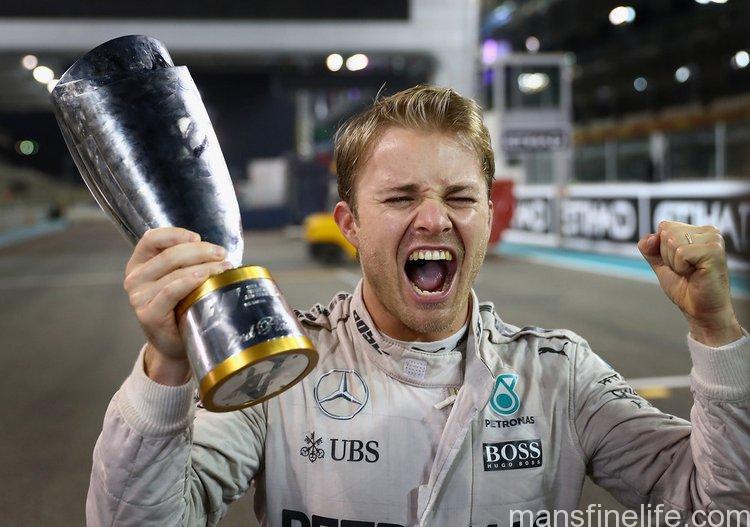 In truth it seemed like Vettel was very kind to Rosberg in those closing laps. With the fastest car in the field after a late pit stop gave him the freshest rubber, Vettel made one good run at Rosberg after getting by the flagging Verstappen. When the Ferrari driver failed to pass he seemed content to come home P3 and not ruin his fellow German's lifelong dream. Nonetheless, it was probably Vettel's best drive of the year in what was otherwise a pretty dismal campaign for the Scuderia. It certainly was an honorable way to finish up a season where the 4-time World Champ has often been uncharacteristically impetuous and whiney. Vettel's teammate Kimi Raikkonen, who outscored him more often than not in the second half of the season, was a distant P6.
For Red Bull's Verstappen it was another spectaular race. The Dutch teenager spun on the opening lap after coming together with Force India's Nico Hulkenberg and then had to fight his way through the field yet again, as he did so magnificently in the rain in Brazil two weeks ago. But this time he had all race long to do it and the team gambled by keeping him on the second softest tire on offer this weekend, the red-banded Super Softs, for an extended stint to recover track position. The bet paid off and set Verstappen up on a one-stop strategy that very nearly resulted in a podium even if it eventually fell short. It certainly did give Rosberg some worried moments late in the contest as the Red bull phenom harassed the eventual champion, causing Rosberg to plead for his pit wall to speed up the recalcitrant Hamilton. In the end Verstappen's rubber went off after a number of hard fought moments and he came home just off the podium in P4. But 2016 will be remembered as this young man's breakout season and we can look forward to many more special moments to come from this talented wunderkind.
Verstappen's Red Bull teammate Daniel Ricciardo must have wondered why he was not also left out for a one-stop strategy. Running well on his original Super Soft tires, the team somewhat inexplicably called in the Aussie to switch to the more durable Soft compound, the hardest and theoretically slowest on offer, on only Lap 10. This insured that Ricciardo would have to make another stop and also saw him shuffle back out behind Ferrari's Raikkonen. That loss of track position proved fatal to any of Ricciardo's further aspirations. In the end he leapfrogged Raikkonen later in the race but came home a disappointing P5. Nico Hulkenberg survived his first lap clout with Verstappen, taking P7, and his Force India teammate Sergio Perez was P8, ensuring that overachieving team's emarkable and lucrative fourth place finish in the Constructors' Championship. That came at the expense of Williams whose disappointing year went out with a whimper, with the retiring Felipe Massa managing some points in his final drive with a P9 finish but stablemate Valtteri Bottas forced out early with suspension damage. McLaren's Fernando Alonso took the last points paying position with P10 but his teammate Jenson Button went out on Lap 13 with a suspension failure. It was a sad end to the 2009 Champion's final race and an otherwise superlative F1 career.
To 10 finishers at Abu Dhabi:
POS
DRIVER
CAR
LAPS
TIME/RETIRED
PTS
1
44
 
MERCEDES
55
1:38:04.013
25
2
6
 
MERCEDES
55
+0.439

s

18
3
5
 
FERRARI
55
+0.843

s

15
4
33
 
RED BULL RACING TAG HEUER
55
+1.685

s

12
5
3
 
RED BULL RACING TAG HEUER
55
+5.315

s

10
6
7
 
FERRARI
55
+18.816

s

8
7
27
 
FORCE INDIA MERCEDES
55
+50.114

s

6
8
11
 
FORCE INDIA MERCEDES
55
+58.776

s

4
9
19
 
WILLIAMS MERCEDES
55
+59.436

s

2
10
14
 
MCLAREN HONDA
55
+59.896

s

1
Complete race results available via Formula1.com.
Click here for final Drivers' Standings.