Hamilton dominates in Mexico for second win on the trot, Rosberg drives spirited race to secure P2; Ricciardo declared P3 after both Verstappen & Vettel demoted
Lewis Hamilton continued to do the only thing he can do to keep his Championship aspirations alive and the heat on his points-leading Mercedes teammate Nico Roseberg: just win, baby. After dominating last weekend in Austin, Texas at the US Grand Prix, Hamilton continued showing untouchable pace in the thin air of Autódromo Hermanos Rodríguez in Mexico City. Starting from pole, the English contender and current two-time consecutive World Champ seems to have put his chronic starting woes well and truly behind him and blazed off the line cleanly. Despite Hamilton's locking up and running off course briefly, Rosberg was still unable to match Hamilton's acceleration, probably because the German was duking it out for positions with the two aggressive Red Bulls of Max Verstappen and Daniel Ricciardo. But even though Rosberg had every incentive to drive conservatively and perhaps live to fight another day he banged wheels with Verstappen rather than cede second to the precocious Dutchman.
Careening off and then back onto the track ahead of Verstappenan after the contact, it could have been argued that Rosberg gained an unfair advantage but the stewards ruled no action was warranted. So Rosberg's decision to fight it out paid off and, as it has more than once this season after contact, he managed to escape any significant damage that might have compromised his race. Despite an early Safety Car period that scrambled the contenders' tire strategies somewhat, the two Mercedes did what they have done 6 times this season: take another dominant 1-2. Hamilton was never really challenged for the victory, his 51st in F1 overall tying Alain Prost for second all-time. And while Rosberg again had to fight off Verstappen again on Lap 49 to secure second, the day still played to Rosberg's undoubted advantage. With only two contests remaining in 2016 the 31-year-old German leads by 19 points over his bitter rival in the quest for his first Drivers' Championship. Even if Hamilton takes the final two victories it will require failure from Rosberg or his car to overhaul him. And with the now-impressive combination of skill and determination that Rosberg has more often than not displayed this year, as well as more than a touch of necessary good fortune, it's hard to see that happening no matter Lewis' supreme talent.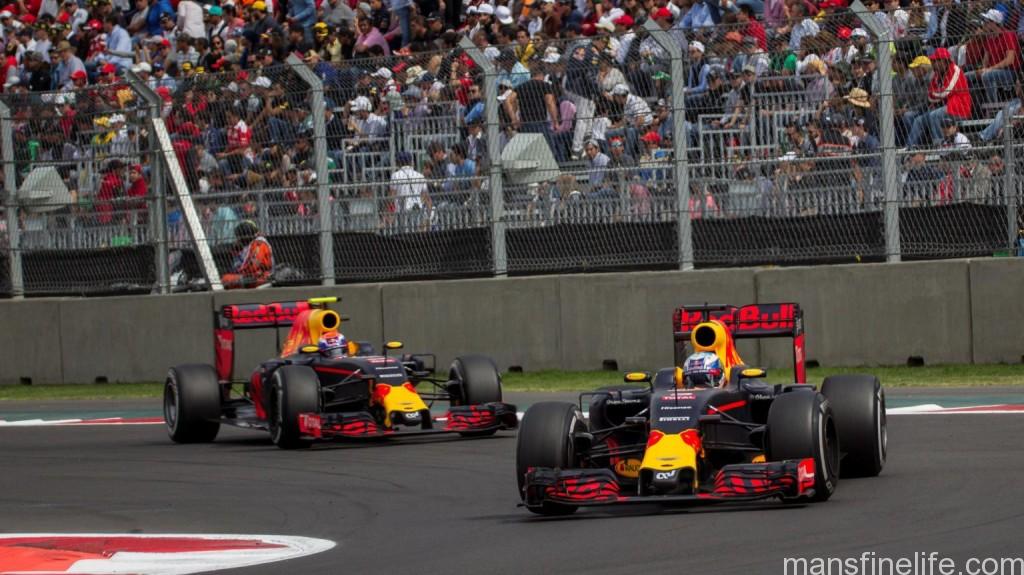 Despite being the only real challengers to Mercedes dominance in Mexico the day did not quite play out according to script for team Red Bull. After running P3 for most of the contest and having aspirations of overtaking Rosberg for the second step, Verstappen's tires went off badly in the closing laps of the race. That saw Ferrari's Sebastian Vettel close the Red Bull down on fresher rubber with a solid shot to overtake him. But Verstappen defended aggressively earning Vettel's wrath — and that of the stewards, who deemed his movements too aggressive. So despite finishing across the line P3 Verstappen was given a time penalty that dropped him off the podium and appeared to give Vettel that coveted position. Ironically, Vettel was himself later penalized for moving under breaking and impeding Verstappen's teammate Daniel Ricciardo in a frantic final lap, thereby elevating the Aussie to that controversial P3. Worse still for Ferrari and Vettel, the 10-second judgment pushed him behind Verstappen and back into P5. With Vettel cursing race director Charlie Whiting when he thought Verstappen had gotten away with his aggressive blocking maneuvers what must the German former 4-time champ have been saying when the axe fell after the race? But for Ricciardo it was a sweet payoff for a remarkable fight from way back in the pack after the team gambled on a change to the hardest Medium tires during that very early Safety Car. No matter how he wound up in third, the Aussie must've felt he earned it.
Kimi Raikkonen was comparatively calm amidst his teammate's storm taking his Ferrari home in P6. But even Kimi could not avoid an incident in the closing laps when, while pursuing the Force India of Nico Hulkenberg, the latter spun out to concede the position ending what was essentially a race-long battle between the two talented veterans in Raikkonen's favor. To be fair, it seemed more a case of Hulkenberg's tires giving up than any contact and fortunately the German was far enough ahead of his nearest pursuer to nurse his ride home in P7. With his teammate and native Mexican Sergio Perez fighting all the way up to the points in P10 it was another good day for little Force India and their ambition to out-hustle Williams for P4 in the all-important Constructors' Championship. With Team Williams' Veltterri Bottas and Felipe Massa finishing in P8 and P9 respectively, the gap between the two squads is a mere 9 points with just two races left to see who comes out ahead of whom in that ultra-lucrative contest that so often determines which F1 teams survive and which do not.
Top 10 finishers at the Mexican GP:
POS
DRIVER
CAR
LAPS
TIME/RETIRED
PTS
1
44
 
MERCEDES
71
1:40:31.402
25
2
6
 
MERCEDES
71
+8.354

s

18
3
3
 
RED BULL RACING TAG HEUER
71
+20.858

s

15
4
33
 
RED BULL RACING TAG HEUER
71
+21.323

s

12
5
5
 
FERRARI
71
+27.313

s

10
6
7
 
FERRARI
71
+49.376

s

8
7
27
 
FORCE INDIA MERCEDES
71
+58.891

s

6
8
77
WILLIAMS MERCEDES
71
+65.612

s

4
9
19
 
WILLIAMS MERCEDES
71
+76.206

s

2
10
11
 
FORCE INDIA MERCEDES
71
+76.798

s

1
Complete race results valuable via Formula1.com.
The next Grand Prix weekend, the penultimate of the year, will be November 11-13 from Autódromo José Carlos Pace aka Interlagos in Sao Paolo. With time running out on the season and tensions and tempers ramping up to a fever pitch hope to see you then to find out how it all shakes out!