Rosberg reigns supreme in Russia to continue undefeated 2016 start; Hamilton battles back for 2nd; Raikkonen salvages 3rd for Ferrari after Vettel knocked out in first-lap crash
Nico Rosberg continued a flawless start to his 2016 Formula 1 season with his fourth consecutive victory in four races. The Mercedes driver and championship points leader started from pole in Russia and sped away as the lights went out, never to be touched by the chaos that unfolded behind him. No one could challenge his lead the rest of the race and he solidified his status as this year's driver to beat. Not coincidental to the supremely confident start to his season, Rosberg's win in Sochi was his seventh victory overall dating to last season, making him only the fourth driver in F1 history to achieve such a feat. The German contender, who is seeking his first-ever Drivers' title, now has a daunting 43-point lead over his closest pursuer, teammate and archival Lewis Hamilton.
But Hamilton managed a gritty drive of his own after engine troubles in qualifying relegated him to P10 on the starting grid. The current consecutive World Champ clawed his way through the field, exhibiting just enough patience to leaven his usual aggression and fight toward the front, finishing and impressive P2. Again, however, there were some problems with Hamilton's engine even amidst his impressive comeback run and he was forced to back off his pursuit of Rosberg with a water pressure issue. If Hamilton can get any luck going his way it's clear that he is still a match for anyone on track, including his teammate. But with as well as Rosberg is driving and how fortune seems to have turned its favor upon him, Hamilton needs for his team to quickly bulletproof his Silver Arrow if he is to pose any real threat going forward and contend for victories on even footing.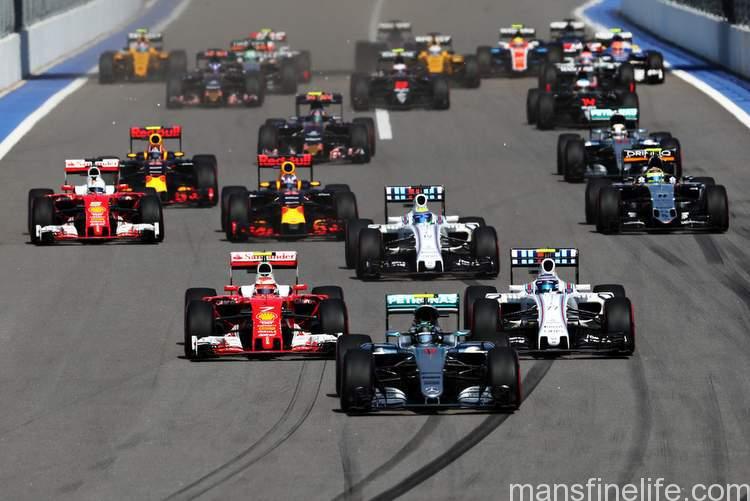 Ferrari had yet another frustrating, topsy-turvy day. Their ace, Sebastian Vettel, who qualified P2, received a 5-spot grid penalty for a gearbox change, meaning he had to start back in P7. And being pushed into the midfield cost Vettel dearly when the Red Bull of Daniil Kvyat punted his Ferrari from behind not once but twice as they made their way through the opening corners. The second blow knocked Vettel into the wall and ended his race in the first third of the first lap. It was the second time in the last two Grand Prix Kvyat and Vettel had come together and the second time in the last three races that Vettel was out before the end of Lap 1. Needless to say, Vettel was irate with Kvyat and his ill fortune, letting forth an expletive filled tirade over race radio. He now finds himself buried back at 5th in the points, not exactly what the former 4-time World Champion was anticipating going into the season with an improved Prancing Horse. That left it up to his wingman Kimi Raikkonen to pick up the flag or the legendary Scuderia and carry it to the finish, something the much-maligned Finn did with aplomb. While Raikkonen had nothing for the two factory Mercedes, he was more than a match for the Mercedes-powered Williams duo, keeping them safely behind to grab a valuable podium at P3.
Those two Williams of Valtteri Bottas and Felipe Massa nonetheless had their best race of the young season, finishing P4 and P5 respectively. On the smooth, low degradation Sochi Autodrom circuit, their cars didn't punish the tires by their chronic lack of downforce, as in the first three races, which allowed their straight-line speed shine and carry them to valuable points. The Williams result was made all the sweeter when team Red Bull made a strategic blunder following the Kvyat-caused safety car period to start the race and put both he and Daniel Ricciardo on the the option medium tires, the third best performing tire on offer. Gambling on the longevity of the mediums, Red Bull lost big time. Regardless of the fact that Kyat's race was stunted by a 10-second stop-and-hold penalty for the Vettel collision, Ricciardo could find no advantage at all in the silver-banded rubber on the slick circuit, making the Aussie easy prey for those drivers behind who had changed onto the superior yellow-banded soft tires. In the end, Red Bull had a disastrous non-points scoring run with Ricciardo finishing P11 and the semi-penitent Kvyat way back in P15.
But Red Bull's bungle gave an opportunity for several underdogs to score good points in their stead.  Chief among those lucky recipients was the genuinely improving McLaren team, which saw Fernando Alonso take P6, the team's best finish is ages, and Jenson Button nabbing the last points paying position in P10. Renault also caught the luck with McLaren discard Kevin Magnussen rewarding the French team for rescuing him from exile with a solid drive and a valuable P7. Rookie American team Haas F1 was back in the points after a disappointing race in China, with Romain Grosjean putting in another solid effort good enough for P8. And Sergio Perez brought some cheer to Force India after his teammate Nico Hulkenberg was also knocked out on that eventful Lap 1. The talented Mexican salvaged a much needed P9 for the beleaguered team, whose owner Vijay Malia faces extradition back to India for non-payment of massive amounts of debt after his Kingfisher Airlines folded.
Top 10 finishers for the Russian Grand Prix:
POS.
DRIVER
COUNTRY
TEAM
TIME
POINTS

1

NICO 

ROSBERG

GER
MERCEDES
1:32:41.997
25

2

LEWIS 

HAMILTON

GBR
MERCEDES
+25.022

s

18

3

KIMI 

RÄIKKÖNEN

FIN
FERRARI
+31.998

s

15

4

VALTTERI  

BOTTAS

FIN
WILLIAMS
+50.217

s

12

5

FELIPE 

MASSA

BRA
WILLIAMS
+74.427

s

10

6

FERNANDO 

ALONSO

ESP
MCLAREN
+1

 lap

8

7

KEVIN 

MAGNUSSEN

DEN
RENAULT
+1

 lap

6

8

ROMAIN 

GROSJEAN

FRA
HAAS
+1

 lap

4

9

SERGIO 

PEREZ

MEX
FORCE INDIA
+1

 lap

2

10

JENSON 

BUTTON

GBR
MCLAREN
+1

 lap

1
Complete race results available via Formula1.com.
Final thoughts: F1 & Perrelli's decision to go with three sets of available tires for each race this season as opposed to just two as in years past has definitely paid off. As evidenced by Hamilton's frantic 5-stopper in China and Red Bull's high-risk gamble in Sochi that came up snake-eyes, the third option for tires gives the teams plenty to think about to try and effect their races, for good or for ill. It also makes it more exciting for the fans, as the running order can quickly be shuffled when such do-or-die decisions are made. So just as it was fair to call out F1 and FIA for their hare-brained Qualifying changes to start this year it seems only fair to give Formula 1 and Perrelli some credit where credit is due for making an improvement on tire allocation that genuinely seems to be spicing up the action on the track.
The next race is the Spanish Grand Prix in Barcelona in two weeks time. Can Rosberg make it eight in a row or will Hamilton finally catch a break and be able to fight for a win on even terms? Hope to see you then to find out!