Rosberg earns victory in first race of 2016, Hamilton fights back for P2 after poor start; Vettel settles for P3 after early lead
After Saturday's wet firecracker of a Qualifying, where the new and now-aborted elimination rules left the track empty for long stretches and the majority of the teams unable to strut their stuff, Sunday's Australian Grand Prix unleashed a corker. Perhaps perversely aided by the limited track time in quali hiding their true performance, Ferrari seemed to sandbag mighty Mercedes as the lights went out for the race start. Front runner Lewis Hamilton, who appeared destined for another victory procession after earning his remarkable 50th career pole, bogged down a bit at the start under the new single-clutch pedal rule and that was all the opening Sebastian Vettel needed. The Ferrari driver shot past not only Hamilton but also his P2 teammate Nico Rosberg, splitting them into turn one and grabbing the race lead out of the gate. Better yet for the Prancing Horse, Kimi Raikkonen also managed to sneak through as the two Mercedes diced to recover, making it a very encouraging Ferrari 1-2 to start the new year. Could the legendary team from Maranello be ready to present a real championship challenge to the heretofore untouchable Silver Arrows?
Before that answer could be known for certain, the race took a very hairy turn on Lap 18 when veterean McLaren driver Fernando Alonso misjudged his pass on young Haas F1's Esteban Gutierrez, sending the Spanish former champion catapulting through the air over a gravel trap and into a catch fence. Despite the fact that Alonso's McLaren wound up looking like a balled up piece of aluminum foil both drivers walked away unharmed. That scary shunt led to an extended Red Flag period, which neutralized Vettel's advantage, as all the cars were able to change tries without costing them time. And while Ferrari chose to keep Vettel on the high-performing, quickly degrading super soft tires, the rest of the field opted for the long running medium compound. Ominously for Ferrari, shortly after the Red Flag restart the highly placed Raikonnen was forced to retire on Lap 22 with a fiery engine failure as he pulled into the pits. That continued the star-crossed Finn's run of bad luck since rejoining the Scuderia.
Meanwhile, Hamilton found himself stuck in 6th behind the very competitive Toro Rossos of Carlos Sainz and Max Verstappen. Between pit stops and his typically aggressive driving Hamilton was able to make up ground and work himself up to P4 by Lap 33. At the front Rosberg was catching up to Vettel. And when the Ferrari team had an uncharacteristically poor pit stop while changing Vettel's tires, the Mercedes driver inherited a lead he would never relinquish. The Ferrari bobble also insured that Hamilton would be able to catch Vettel despite the former 4-time World Champ's best efforts at holding the Englishman off, albeit with both finishing far behind Rosberg. And so just when it appeared that either Ferrari might take the whole enchilada or Hamilton would once again crush Rosberg's fragile confidence with a dominant victory, it was Rosberg who flipped the script and left Hamilton chasing him in futile pursuit at the end of the Aussie Grand Prix. Hamilton's unlikely poor start and Ferrari's surprising woes gave Rosberg just the leg up he needed to try and wrest the crown from his archival and chief tormentor. We'll have to see if his momentum, which now includes an impressive four consecutive race wins dating to last season, can give Rosberg the impetus he needs to break Hamilton's stranglehold on the title and earn the German aspirant his first Championship. Time will tell.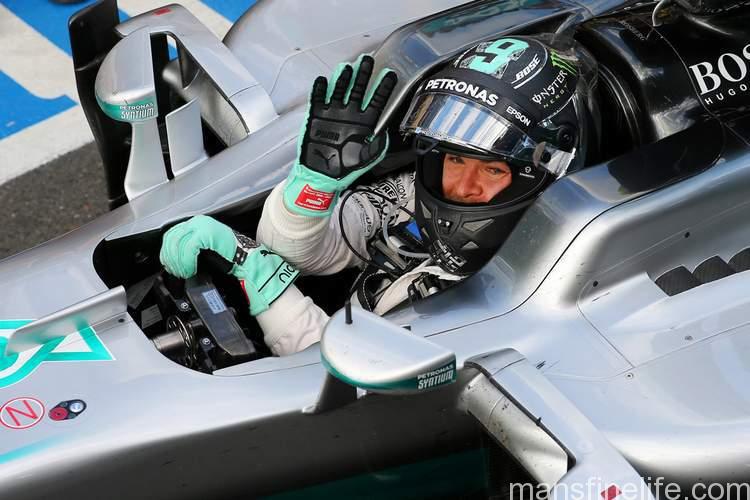 In other notable results, Red Bull's Daniel Ricciardo had an excellent run to finish P4 in front of his home fans in his newly "Tag Heuer"-powered chassis (really just a re-badged Renault with improved performance over last year's woeful power plant). Felipe Massa had a diligent if quiet P5 for Williams. But Romain Grosjean pulled a stunner with his quite amazing P6 for American F1 debutante, Haas F1, catching some breaks due to attrition and the strategy-scrambling red flag period. Despite the fact that Haas' Gutierrez DNF'd after his scary altercation with Alonso, the impressive finish of the brand new Ferrari-powered chassis must have felt like a victory for the first year U.S. team. With Ferrari giving him a top of the line engine, the NASCAR Sprint Cup-winning team owner Gene Haas appears to have a significant advantage over most beginning Formula 1 squads and we could continue to see eye opening results from these upstart Yanks.
Nico Hulkenberg stayed out of trouble and came home a strong P7 for Force India, while Massa's Williams teammate Valtteri Bottas fought his way through traffic from 16th on the starting grid up to a decent P8 after a poor qualifying plus a 5-spot penalty for a gearbox change. Rounding out the Top 10 were the very feisty and competitive Toro Rossos, with 21-year-old Carlos Sainz besting his 18-year-old teammate Max Verstappen, P9 to P10. Verstappen was livid at not being allowed past Sainz to try to make up even more positions in what he felt was a faster car. But, hey, them's the breaks in Formula 1, kid. Just ask Rosberg or Mark Webber. Nobody hands anything to you no matter how much you may feel your teammate is doing you dirty. Like all worthwhile things in life, you've got to earn it. And in the exciting first chapter of the 2016 season, Mercedes and Ferrari once again showed that they've earned the right to be considered the top two teams in the sport. Now it remains to be seen which one will emerge as the best over the long haul and just who exactly the top driver will turn out to be.
Top 10 finishers in Australia:
1

NICO 

ROSBERG

GER
MERCEDES
1:48:15.565
25

2

LEWIS 

HAMILTON

GBR
MERCEDES
+8.060

s

18

3

SEBASTIAN 

VETTEL

GER
FERRARI
+9.643

s

15

4

DANIEL 

RICCIARDO

AUS
RED BULL RACING
+24.330

s

12

5

FELIPE 

MASSA

BRA
WILLIAMS
+58.979

s

10

6

ROMAIN 

GROSJEAN

FRA
HAAS
+72.081

s

8

7

NICO 

HULKENBERG

GER
FORCE INDIA
+74.199

s

6

8

VALTTERI  

BOTTAS

FIN
WILLIAMS
+75.153

s

4

9

CARLOS 

SAINZ

ESP
TORO ROSSO
+75.680

s

2

10

MAX 

VERSTAPPEN

NED
TORO ROSSO
+76.833

s

1
Complete race results available via Formula1.com.
The next race weekend is in two weeks from Bahrain, April 1-3. Can Ferrari keep the pressure on Mercedes? Will Rosberg keep his mojo going? And can Haas continue to be a consistent points scoring team in its first season? Hope to see you then to find out now that it's game on in 2016!