Vettel and Ferrari ascendent in Hungary; Kvyat & Ricciardo take 2nd & 3rd for Red Bull; Rosberg loses chance to pass Hamilton in the points late in wild race
Only in one of the wildest, most topsy-turvey Formula 1 races you will ever see would Sebastian Vettel's masterful win for resurgent Ferrari seem like the secondary story of the day. But that's how it felt on Sunday in Hungary in a Grand Prix featuring shunts, punctures, penalties and mechanical failures galore, as well as a remarkable 2-3 finish by Red Bull's Daniil Kvyat and Daniel Ricciardo in their previously underwhelming RB11 chassis. It was easy to overlook the remarkable achievement of Vettel and his improved Prancing Horse scoring his first-ever win at the Hungaroring when even woeful McLaren managed to finally score double points in 2015. But the German former four-time World Champion stamped his authority on the race the moment the lights went out for the start, making a power move right on by pole-sitter Lewis Hamilton's Mercedes along the outside going into Turn 1. Vettel's teammate, beleaguered Finnish veteran Kimi Raikkonen, followed close behind the space Vettel had created and all at once both Ferarris had passed both Mercedes. That left Silver Arrows teammates Hamilton and Nico Rosberg duking it out for 3rd. And then, no doubt frustrated by his ragged start, Hamilton lost his composure. The English championship leader tried to shove his way by Rosberg but had to bail out when he got too close going into a turn, sending him skittering off track into the gravel. While he was never stuck and kept rolling, a gaggle of cars passed him as he extricated himself and unlucky Lewis found himself in P10 before the end of the first lap. That seemed to set the tone for Hamilton's race, as he proceeded to bull his way around the the Hungaroring in a seemingly futile effort to make up by brute force all the ground he lost on that eventful first lap.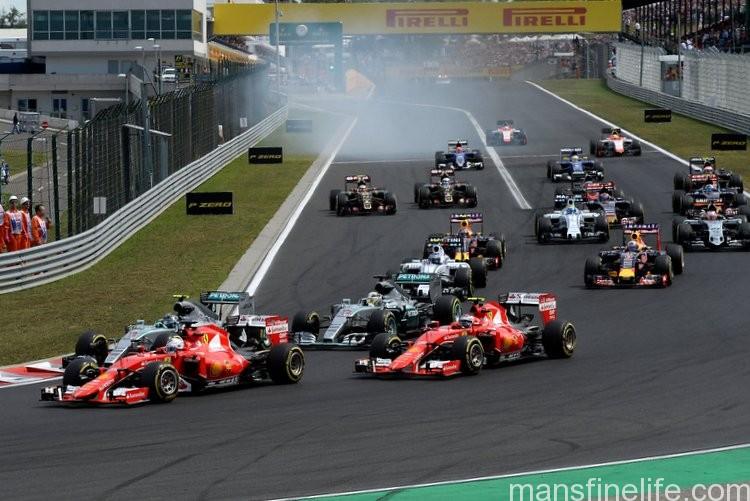 Meanwhile up at the front, the race settled into a false sense of calm that belied the even greater chaos yet to come, with Vettel & Raikkonen running 1-2 and Rosberg 3rd. But right around Lap 40 Raikonnen began to experience ERS issues and dropped several dozen horsepower. The continued bad luck for the Finn left him in the unfortunate position of "blocker" for teammate Vettel and it became inevitable that the rest of the contenders would swamp him, which they soon did. With potentially his best car of the year and badly needing a strong result to stay in Ferrari's good graces Raikkonen instead was forced to retire on Lap 60. At least no one could say that it was Kimi's fault this time but that probably won't help him keep his seat.
Prior to Raikkonen's dropping out there was an eventful Safety Car period initiated when the Force India of Nico Hulkenburg had front wing failure on Lap 43 and shot straight off into the tire barrier. Continue reading →