The new season got off to a very strange start in Australia on Sunday, as nearly half the field failed to make it to the end of the race and several big names were out even before the grid was formed. Young drivers also showed that they belonged in the big time with standout performances that put pressure on the established stars. And a former 4-time World Champion came in from the cold and into the warm embrace of Maranello and the tifosi. But for all that was new and unexpected at the Albert Park street circuit in Melbourne one thing was all-too-familiar for the chasing teams in the paddock: Mercedes and Lewis Hamilton continued to reign supreme.
Mercedes & Hamilton still untouchable in 2015 debut, Rosberg a familiar 2nd; Vettel takes Ferrari back to the podium
Running from Pole to the win in intense but seemingly effortless manner, 2-time and defending World Champion Lewis Hamilton laid down a fierce challenge to his teammate Nico Rosberg and any other pretenders to the throne. The Englishman badly wants a third title to put him the conversation of all-time greats and even if it was only the debut race of the season it's hard to see how anyone is going to stop him. The Mercedes F1 W06 looks potentially more dominant than last year's model with a season's worth of race data for improved reliability under its belt and what appears to be increased horsepower squeezed out of the advanced hybrid engine. And Hamilton may well have broken Rosberg's resolve with last year's end-of-season rampage to snatch the title from the German for a potentially unbeatable psychological edge. So, with the near-perfection of the Silver Arrows, a once-defeated Rosberg seems to be the only driver that can pose a challenge to Hamilton on paper. Now, maybe the runner-up can rise to the challenge and wrest the Championship away. But at times in Australia it felt like Hamilton was merely toying with his German foil: Rosberg would close the gap to under 2 seconds as the race wore on and Hamilton would pull it out again at will. Rosberg never did get to within the 1-second margin, the magic number for DRS use and overtaking possibilities. Obviously, it's only Race 1 of a 20 Grand Prix calendar. But barring unforeseen circumstances, we could well be looking at the beginning of one of the most dominant seasons ever for an F1 pilot.
Behind the orderly march to victory of the Mercedes factory duo, all was chaos. First of all, the Manor team (formerly Marussia) was unable to turn any laps all weekend due to software issues and had to withdraw from the race. Then it was revealed that Williams' driver Valtteri Bottas had damaged his back by taking one too many hard bounces off the curbs to the left of the final corner and was not medically cleared to start. Williams, which had not run their 3rd driver in any of the practice sessions over the race weekend, were forced to pull Bottas' car and field Felipe Massa alone. Then on the formation lap both the Red Bull of Daniil Kvyat (gearbox) and the McLaren of Kevin Magnussen (subbing for Fernando Alonso — engine failure) had to be retired before making it to the grid. Once the race did get underway, there was an immediate kerfuffle heading down to turns 1 & 2 involving Ferrari's Kimi Raikkonen and rookies Carlos Sainz of Torro Rosso and Felipe Nasr of Sauber that bounced the Lotus of Pastor Maldonado into the outside wall, dealing the Columbian's car terminal suspension damage. To make matters worse for Lotus, which had so much reason for optimism after Saturday's decent Qualifying, their other car driven by Romain Grosjean suffered near-total power loss launching off the grid. That's right: before the first lap was even concluded both cars for snakebit Lotus had retired. That left a mere 13 cars still running the Grand Prix after the opening lap but meant that there were points galore for normally backmarker teams that could manage to keep running.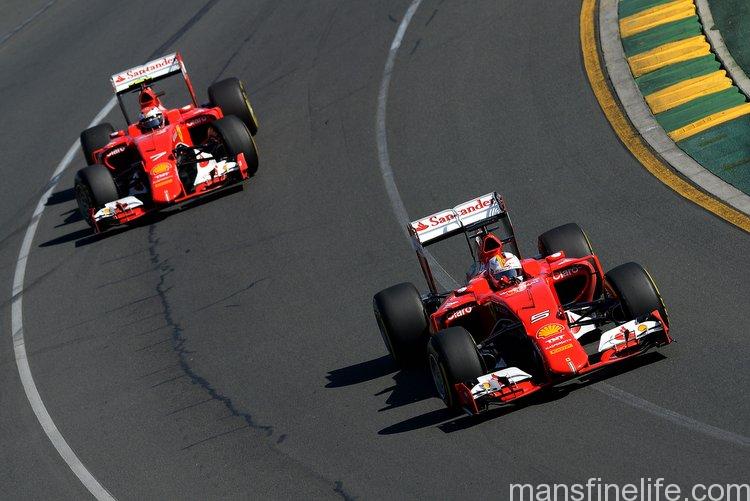 Once the race resumed and the two Mercedes flew away into the distance, the action was for the points paying positions behind them. Ferrari's new star, former Red Bull man Sebastian Vettel, diced with Williams' Felipe Massa lap after lap until he finally overtook the little Brazilian in the pits on Lap 29. The improved SF15-T and its stronger engine had plenty to hold off Massa to the finish, albeit 34.5 seconds behind Hamilton. Nevertheless, it was a sweet run to the podium for the 4-time World Champion with his new team, who had an amazing carrer at Red Bull but last year ended it toiling in the shadow of Daniel Ricciardo and managing a mere three 3rd place finishes for the season. Yet all was hardly perfect in Ferrari world, as the pit stops for Raikkonen were a disaster, with the left rear slow to come off on stop one and then unable to be tightened properly on stop two, thus forcing the Iceman's retirement on Lap 41 and almost certainly costing the Scuderia valuable Constructor's points.
Behind Massa in 4th, Ferrari-powered Sauber had a massive day highlighted by a remarkably poised and powerful drive from Nasr to take an eye-opening P5, thus delivering more points in one race than Sauber were able to score all of last year (that would be zero). Second driver Marcus Ericsson finished 8th for good measure, making it a banner end to the week for the beleaguered Swiss team, which had been facing threatening legal sanctions until Friday for breaching their contract with former driver Giedo Van Der Garde. Sandwiched between the two Saubers was the Red Bull of Daniel Ricciardo in what can only be called an ominously poor P6 and the typically over-performing Force India of Nico Hulkenberg. Rookie Carlos Sainz recovered from some mistakes to bring his Torro Rosso home in 9th (his even younger rookie teammate, 17-year-old Max Verstappen, had to retire on lap 34 after a solid drive) and Sergio Perez in the other Force India took the last point at 10th. That meant that the sole McLaren of Jenson Button, which mind you qualified a lowly 17th, still could do no better than 11th in a field of 11 surviving cars. Some tried to put lipstick on that pig by saying that, hey, at least the Honda engine made it through a complete race distance (well, one of them did). But really, if that's the best spin you can put on the situation you're looking at a lost season for a once proud and dominant organization. It'll be a miracle if McLaren can score any points at all. Now who would've thought that coming into 2015?
Top 10 finishers in Australia here:
1

LEWIS 

HAMILTON

GBR
MERCEDES
1:31:54.067
25

2

NICO 

ROSBERG

GER
MERCEDES
+1.36

s

18

3

SEBASTIAN 

VETTEL

GER
FERRARI
+34.523

s

15

4

FELIPE 

MASSA

BRA
WILLIAMS
+38.196

s

12

5

FELIPE 

NASR

BRA
SAUBER
+95.149

s

10

6

DANIEL 

RICCIARDO

AUS
RED BULL
+1

 lap

8

7

NICO 

HULKENBERG

GER
FORCE INDIA
+1

 lap

6

8

MARCUS 

ERICSSON

SWE
SAUBER
+1

 lap

4

9

CARLOS 

SAINZ

ESP
TORO ROSSO
+1

 lap

2

10

SERGIO 

PEREZ

MEX
FORCE INDIA
+1

 lap

1
Complete race results via Formula1.com
The next Grand Prix is in two weeks in Malaysia — hope to see you then!